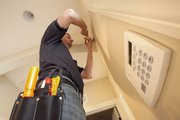 The staff at Rueschhoff Locksmith and Security Systems, 3727 W. Sixth St., hear the all-too-frequent home invasion details from customers following a rise in home burglaries in the Lawrence area.
"They are really shaken up," said employee Shayne Kahle. "It becomes such a reality."
Rueschhoff has seen a boost in business, starting in early summer, following police warnings and reports of an increase in aggravated home burglaries, or those in which someone is home during the crime.
Between May 1 and Aug. 31, Lawrence police reported 94 such crimes in Lawrence. Several people have been arrested for the crimes, but the burglaries have continued.
"They're looking for answers," said Rueschhoff co-owner Don Stowe. "It's the fact that they've been invaded."
Employees at Rueschhoff said they're hearing what police have been saying about the recent burglary spike: that the crimes are happening in nearly all areas of Lawrence.
"There's really no pattern," said Warren White, Rueschhoff co-owner. Customers report everything from break-ins after they leave a sliding door unlocked to someone breaking a window to gain entry.
As White shows off some of the high-tech security system options, such as text alerts when someone enters a home, or the ability to remotely arm or disarm a security system, he stresses that residents can prevent home burglaries with simple measures as well.
Steps like replacing or re-keying old locks, keeping exterior lights on and remembering to lock sliding glass doors can make the difference when a potential burglar is casing a neighborhood, White said.
"The really frustrating thing is that we don't see customers until after" a burglary, White said.
Copyright 2018 The Lawrence Journal-World. All rights reserved. This material may not be published, broadcast, rewritten or redistributed. We strive to uphold our values for every story published.