Not too long ago, Justin Riley's white, No. 21 Lawrence High soccer jersey went missing in action.
Photo Gallery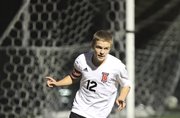 LHS soccer v. Leavenworth
Images from Tuesday night's soccer game between Lawrence High and Leavenworth.
The Lions were on the road, and the senior midfielder's father, Bill, had mistakenly brought the home shirt with him to the game. How the elder Riley lost track of it or where it is now remains a bit of a mystery. All Justin knows is that the number he had lovingly worn since his sophomore season is no longer available for LHS home games.
"I'm so mad at him," Riley said of his father with a laugh. "Now I'm just rockin' (No.) 23, I guess."
The new digits certainly haven't been bad luck for Riley, who scored a hat trick in Lawrence's 8-1 home beatdown of Leavenworth Tuesday night.
As Lions coach Mike Murphy said of Riley's new jersey: "It's not like he's gonna hide from you out there."
The unmistakably smooth midfielder netted the Lions' first goal four minutes into the drubbing by beating Pioneers goalkeeper Sam Davis to the ball near the top of the box, then chipping it over him with confidence. Later, Riley gave the Lions a 6-1 lead late in the second half by dribbling back and forth through the defense and drilling a shot into the back right corner. Eventually, Riley capped the night with his final goal in the 75th minute on a frighteningly powerful boot from about 30 yards out.
"I saw an opening for the goal," Riley said. "As soon as I hit it, it felt so pure."
The day before at practice, Murphy said, the Lions had been drilled on their shot techniques after shooting eight of their 15 attempts over the goal in their previous outing, a 3-1 victory over Shawnee Mission South. The work showed in Lawrence's domination of the Pioneers (0-10-0). Lawrence (7-3-1), which scored four times in each half, put 29 shots on goal. The game easily would have ended in a mercy rule had Davis not finished with 21 saves.
Lions senior Robert Lyan said the one-sided victory allowed them to work on possession and switching the ball from side-to-side while maintaining control.
"It's an easy game, but we can't underestimate them," Lyan said. "There's always a chance to improve."
Senior forward Luke Matthews played a perfect pass in front of the goal to Lyan, wearing two defenders, in the 12th minute, and Lyan scooted it into the goal for a 2-0 lead. In the 39th minute, Gavin Fischer set up Lyan on the right side, and he made the defenders look like statues as he blazed past them and scored, giving the Lions a 4-0 advantage.
Even though Lawrence toyed with its opponent at times, senior midfielder Johannes Reiber said the Lions made a point not to think of the Pioneers as a lesser team than Lawrence.
"We just try to play our game in the first 10 minutes and try to put it away really early, score three, and then we can just relax and have fun," said Reiber, who scored Lawrence's third goal in the 16th minute.
In the second half, junior defender Connor Henrichs gave the Lions a 5-0 lead after a shot pinballed off numerous legs and feet in front of the goal before Henrichs controlled the ball and put it away.
In the 70th minute, Connor Murphy benefited from a flick by Bray Kelly in front of the goal and put a shot inside the left post for a 7-1 Lawrence lead.
The Lions play Thursday at Olathe South.
Copyright 2018 The Lawrence Journal-World. All rights reserved. This material may not be published, broadcast, rewritten or redistributed. We strive to uphold our values for every story published.