Photo Gallery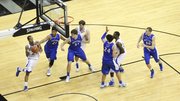 KU basketball v. Saint Louis (CBE Classic)
Images from Tuesday night's game against Saint Louis in the CBE Classic.
Press Conferences & Post-Game Interviews
KU coach Bill Self
Kansas coach Bill Self talks to reporters following the Jayhawks' 73-59 victory over Saint Louis on Nov. 20, 2012.
Press Conferences & Post-Game Interviews
Jeff Withey and Travis Releford
Jeff Withey and Travis Releford talk to reporters following the Jayhawks' 73-59 victory over Saint Louis on Nov. 20, 2012.
Kansas City, Mo. — As soon as his post players fought around Kansas University center Jeff Withey, Saint Louis coach Jim Crews watched helplessly as the Jayhawks countered with a lob over the top.
"They're well-schooled. They throw it right back to that backboard like it's the back of the end zone like those NFL quarterbacks," Crews said following his team's 73-59 loss to KU on Tuesday night at the Sprint Center. "It seems like they've got quite a few of those quarterbacks, so that's not good from our standpoint."
The Jayhawks had six players record assists, led by nine from KU senior Elijah Johnson.
Meanwhile, Withey tied a career-high with 25 points on 7-for-12 field-goal shooting.
"He gets it so deep," Crews said. "He's got good hands, and he's so long."
All seven of Withey's made field goals came off assists from teammates.
"If you get behind him, he just buries you deep," Crews said. "So we're trying to get help from different positions, but they've got some good players all over the place. As soon as you plug this hole, another hole opens up. That's why they're pretty good."
One place SLU tried to sag was as the 3 spot, where in the first half the Billikens let Travis Releford run free on the perimeter.
The senior took advantage by scoring 21 first-half points on 6-for-11 shooting while going 4-for-6 from three.
"That wasn't real wise on my part, I guess," Crews said. "I was trying to take away some of the inside. Actually, even when we did (guard Releford tighter), he hit a couple good shots. But we had a hand up on it pretty good.
"He shot the ball a little bit better than we thought he would — or I thought he would. The players might not have thought that, but I did. So that wasn't real wise. He got them off to a good start. There's no doubt about that."
Crews said turnovers were one of the main reasons his team struggled offensively in the first half. SLU had 10 first-half giveaways before turning it over just twice after halftime.
Perhaps not coincidentally, the Billikens played even with the Jayhawks (34-34) in the second half.
"We came out flat. I don't know the reason for that," said SLU forward Cody Ellis, who led his team with 19 points. "We've got to be ready to go from the very start."
Copyright 2018 The Lawrence Journal-World. All rights reserved. This material may not be published, broadcast, rewritten or redistributed. We strive to uphold our values for every story published.