Lawrence High, in search of some stability for its girls soccer program, introduced Monday afternoon a new head coach who hopes to provide just that.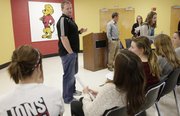 Justin Young, the fourth Lions head coach in four years, met with close to 50 potential players in the LHS cafeteria. He spoke often of his obsession with soccer, discussed training options for players in the coming months of the offseason and fielded questions after being introduced by Lawrence athletic director Ron Commons.
Students heard from Young — who comes to LHS with assistant coaching experience at both Pembroke Hill and North high schools in Kansas City, Mo. — about his hope to have as many players as possible try out this coming spring, how he adapts formations to best suit the skill sets of his players and a little about his own playing career.
Young played for Shawnee Mission East in the Sunflower League, but he didn't use his high school experience when asked what position he played. Young admitted he spent most of his playing days as a defender and sweeper after giving up goalkeeping in the third grade because he cried too much when someone scored on him.
The new coach kept the mood light with jokes and sarcasm and let it be known his two passions in life are biology (Young graduated from UMKC in May with bachelor's degrees in biology and education and a minor in chemistry) and soccer.
"I'm an absolute nut for it," he said.
Currently a paraprofessional at Olathe South, Young wants to become a teacher, and Commons said his goal is to have Young at LHS as a teacher and coach.
"It's pretty easy to tell in conversation how much passion he has for the game of soccer," Commons said, "and what he wants to do with his career."
After coaching at the club level and assisting other prep teams, Young said his ultimate goal was to lead a varsity high school program. He inherits a Lions team that went 3-14 in 2012 under former coach Janna Kepler, who resigned this past summer.
Assistant coach Nichole Bishop, entering her third season with the Lions, is the only holdover on the staff. She and new assistant Jacob Brewer, a 2005 LHS graduate who played four years with the boys soccer program, joined Young for his meet-and-greet.
The new head coach said he chose LHS because he was "looking for a home," and he hopes to make an impact over time.
"The big goal is to win a state title. That's the end-all, be-all of it. I'm hoping to take any and all success they've had in the past and continue lifting the program up," Young said.
That could take some time, but Young indicated that would work with him.
"I don't plan on leaving," he said.
Copyright 2018 The Lawrence Journal-World. All rights reserved. This material may not be published, broadcast, rewritten or redistributed. We strive to uphold our values for every story published.