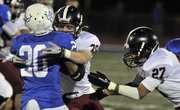 It's rare to find Kieran Severa lacking for confidence, especially on the football field.
But as a first-year starter at outside linebacker for Lawrence High, Severa had to ease into the position this season while also picking up kickoff- and punt-team responsibilities and serving as a back-up wide receiver.
Said Lions coach Dirk Wedd: "Probably in his own mind, he thinks he's better than those four receivers that we have out there (starting), too."
At one early-season practice, Severa told the LHS coaches he could serve as the team's kickoff specialist. He has done so at times — "adequately," Wedd said with a laugh — and the coaches don't mind using him in that fashion because that means Severa can get down the field and make a tackle after booting the ball off the tee.
Having a dash of bravado has helped transform the junior from a bit of a preseason wild card into one of the most improved players on the roster. As a sophomore, Severa didn't play much on defense until free safety Brad Strauss injured his left ankle in the eighth week of the 2011 regular season. Suddenly, the seldom-used defensive back had three games of experience against some of the toughest teams on Lawrence's schedule. Severa said learning on the fly did a lot for his confidence, but it was unfortunate that it had to come at the expense of losing Strauss, the Lions' starting quarterback.
Severa's fill-in performances gave the LHS coaching staff an indication he could not only play, but start in 2012. He found out in the offseason it would be up to him to fill the significant hole left at outside linebacker when Jake Vinoverski graduated.
"When I stepped into that position, I knew Jake made a lot of plays, and it was expected of me to make a lot of plays," Severa said.
At first, that was nerve-wracking for the 5-foot-11, 175-pounder. He didn't feel like he played well in his debut, Lawrence's season-opening 20-14 home loss to Shawnee Mission West.
In the following weeks, though, LHS started beating up on opponents, and Severa found himself making a difference. In his fourth start, he picked off a pass at Shawnee Mission North and returned it for a touchdown. He called it his biggest thrill of the season to date.
"Sacks are awesome," Severa said. "I love sacks, but pick-sixes are worth more."
As the Lions (8-2) prepare for a rematch with SMW (9-1) in the Class 6A state quarterfinals — 7 p.m. Friday kickoff at LHS — Severa has 46 total tackles, 5.5 sacks, an interception and a fumble recovery on his résumé.
Wedd said Severa's offseason commitment to the weight room — he can power clean 250 pounds — made him a force. The coach credited Severa for making two or three touchdown-saving tackles in the Lions' 34-32 first-round playoff win at Gardner-Edgerton this past Friday. Senior LHS linebacker Hunter Haralson said few linemen stand a chance of blocking Severa.
"He's really strong, so he's able to just stay in one spot and read what's going on in the backfield," Haralson said.
That attribute, junior linebacker Drew Green added, might be the area where Severa has improved most.
"He's playing like a wild man," Green said. "I don't think any quarterback has gotten away from him once he's got his hands on him."
Severa is just happy to contribute to Lawrence's small but speedy defense. Of course, he's confident in the players around him, too.
"Everybody can get to the football," he said. "Nobody is slow on our defense. Not even the linemen. All three (starting) linemen are fast. One of them's a wide receiver (Josh Seybert), one's crazy (Kharon Brown), and Cole (Cummins) is definitely a fast lineman."
Copyright 2017 The Lawrence Journal-World. All rights reserved. This material may not be published, broadcast, rewritten or redistributed. We strive to uphold our values for every story published.