A graduate of Kansas University and Lawrence High School is a finalist for a Rhodes Scholarship.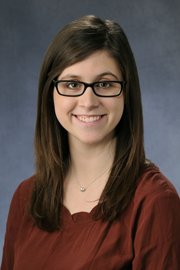 Julia Barnard, a 2012 KU graduate and 2007 LHS graduate, will interview with a selection committee in St. Louis later this month in a bid to become one of 32 Rhodes Scholars selected from around the United States this year.
She will compete for one of two scholarships available for students from Arkansas, Kansas, Missouri and Mississippi. Winners receive a scholarship for two years of graduate study at Oxford University in England.
Barnard lives now in Austin, Texas, where she is working with University of Texas students and planning a service-learning curriculum as part of Texas Hillel.
Among Barnard's honors and achievements at KU: She was a winner of the Donald K. Alderson Award at commencement, an Honors Program graduate, a KU Woman of Distinction for 2011-12, a co-director of KU Alternative Breaks, a KU Hillel Campus Entrepreneurship Initiative intern and a member of Phi Betta Kappa, KU Mortar Board and Student Senate. She has also been nominated for Marshall and Truman scholarships.
Barnard is the daughter of Cheryl Lester and Philip Barnard.
KU has produced 26 Rhodes Scholars. The latest was Kelsey Murrell, a 2012 graduate who was named a winner last fall.
Copyright 2018 The Lawrence Journal-World. All rights reserved. This material may not be published, broadcast, rewritten or redistributed. We strive to uphold our values for every story published.