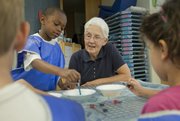 When Pat Pisani started working at Hilltop Child Development Center, it was housed in the Wesley Building, an old three-story building east of Smith Hall on the Kansas University campus.
Today, the retiring executive director oversees a facility licensed for 290 children, nearly double its previous capacity. In 2000, the center also moved into its current home at 1605 Irving Hill Road.
"We've finally gotten large enough that we can meet the need," Pisani said.
The child care center was formed out of the February Sisters movement, when women representing faculty, staff and students occupied a campus building in 1972 and made several demands.
One of those was the establishment of a campus child care center. Soon after, Hilltop was born. Forty years later, KU students have priority placement, and then KU faculty and staff, before the center accepts children from the local community.
Pisani said she felt like many people didn't apply for care at the child care center because they felt they would be placed on a waiting list. But today, the children of KU students account for about 50 percent of the center's enrollment, children from faculty and staff, another 45 percent, and 5 percent from the local community, Pisani said.
The center added more space in 2008, and Pisani said overseeing the expansions was one of her proudest accomplishments as director.
She made certain that the new facility was designed with children in mind.
"If you stand outside, it's designed to look like a big ranch house," she said. "I didn't want it to look like a lab building."
Walking around the building, she pointed out how the handrails on an ADA-compliant ramp weren't enough. She made sure designers included a second set low enough to the ground that small children could use them.
Pisani also has a master's degree in biology to accompany her master's degree in early childhood education, and frequently tries to incorporate nature into the children's experiences, either through gardens or by exposing them to a variety of different animals.
She will be stepping down as director soon after Hilltop's governing board names her replacement. She said she hopes to stay on for a brief time after the new person comes on board to help with the transition.
Heather Grant, a lead teacher at Hilltop who currently teaches 2- and 3-year-olds, has worked with Pisani since the child care center was back in Wesley.
Grant said Pisani was a director that people — staff members, parents or anyone — could approach with any problems they may be having.
"She listens to their concerns and tries to look out for what's best for all parties," Grant said.
Pisani enjoys coming into classrooms, working with children and trying to help however she can, Grant said.
"I hope the next person has as much compassion for the children and is able to handle the whole realm of being a director from children, to parents, to staff," Grant said.
Pisani said she doesn't plan on entering full retirement just yet, and hopes to find something that incorporates her other love of biology. But when she leaves, she said she will miss the children most of all.
"They grow up really too fast," she said. "I keep running into kids who are now in high school and college, and I knew them when they were 2 and 3."
Copyright 2018 The Lawrence Journal-World. All rights reserved. This material may not be published, broadcast, rewritten or redistributed. We strive to uphold our values for every story published.