Annalise Nawrocki's six-year path to a doctoral degree in ecology and evolutionary biology concludes this weekend, but the journey was anything but normal.
Paulyn Cartwright, her adviser and an associate professor of ecology and evolutionary biology, said Nawrocki's path to a doctorate stood out for several reasons.
First, the very start wasn't typical. Nawrocki had worked as a scientific writer in the pharmaceutical industry right after earning her undergraduate degree — in molecular biology and genetics with a minor in English literature — from Northwestern University in Evanston, Ill.
The real tests for her, though, began three months after starting the program and eight months into her marriage with her husband, Cory Hills.
That's when he climbed a ladder in the attic and fell 10 feet onto his head while trying to dislodge some Christmas lights from a crawl space.
The fall fractured his skull and caused a brain hemorrhage in the front part of his brain.
And so Nawrocki was suddenly in the position of caregiver, having to help her husband with basic tasks like getting out of bed and tying his shoes.
"The medical profession is very good at saving your life physically, but then they just release you," Hills said.
Nawrocki said she received some help from family members and got some relief at the lab, too.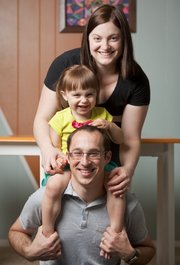 In the meantime, Nawrocki earned a Self Graduate Fellowship, which paid for enough of her degree that she could afford graduate school without taking on additional teaching duties.
Her husband has since made nearly a full recovery and earned a doctorate of his own in the music field. After the accident, multitasking was often an issue for him, Nawrocki said. Lots of images on a TV screen or lots of sounds all at once would be disorienting, and he often needed help coming up with an organizational plan for basic tasks.
"That first year after the injury, she pretty much had two full-time jobs," Hills said.
And after the injury came a daughter, Zoie, who's now 2 1/2.
"She's brought a lot of perspective to my life," Nawrocki said. "A lot of balance and joy. I laugh a lot now, and before I was maybe a little more of a workaholic."
Motherhood added an extra challenge to finishing that dissertation. Zoie has spent some time in the lab, said Nawrocki, who took on a few extra night shifts.
Cartwright said Nawrocki had a solid research record. She helped discover new insights into how jellyfish grow and develop, and presented her dissertation with honors. She traveled the world, going to Italy and Mexico to conduct field research.
After all, jellyfish are in short supply in Kansas.
The jellyfish Nawrocki studies are relatively simple creatures, and like mice and fruit flies, they can help shed light on humans.
"We share a lot of genes in common with these animals," she said.
She gave a research presentation in Germany to scientists from across her field, and though she was nervous at first, once she got done with the presentation, she just wanted to go do it again.
"It was a very exhilarating experience," she said.
She also earned a doctoral dissertation improvement grant from the National Science Foundation for her research.
The job market is still a little rough for tenure-track posts now, Nawrocki said, but she'll be headed to Pomona College in California for a postdoctoral research post.
Cartwright said those, too, can be competitive jobs in today's market. She said she was very happy to see Nawrocki succeed.
"With all those hurdles," Cartwright said, "even I had my doubts. But she never gave up."
Copyright 2018 The Lawrence Journal-World. All rights reserved. This material may not be published, broadcast, rewritten or redistributed. We strive to uphold our values for every story published.