One person was transported by air ambulance to Kansas University Hospital after a single-car accident on Jayhawk Boulevard on Kansas University's campus Saturday.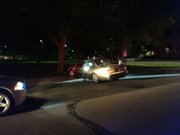 KU Police Department Sgt. Gary Wieden said that the patient was a man and probably not a KU student but that he did not know his identity for sure. No one else was in the car. Medical crews were called to the scene at about 8:20 p.m.
Copyright 2018 The Lawrence Journal-World. All rights reserved. This material may not be published, broadcast, rewritten or redistributed. We strive to uphold our values for every story published.