Photo Gallery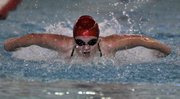 LHS-SM South swim dual
Lawrence High's girls swim team defeated Shawnee Mission South, 114-70, in a dual meet Thursday at LHS.
The Lions won all three relays and seven of the nine individual events. Annie Odrowski won the 50 and 500 freestyles, Miranda Rohn the 200 individual medley and 100 freestyle, Gretchen Frick the 200 freestyle, Heather Cistola the 100 butterfly and Allison Williams the one-meter diving.
Copyright 2018 The Lawrence Journal-World. All rights reserved. This material may not be published, broadcast, rewritten or redistributed. We strive to uphold our values for every story published.