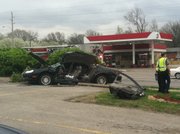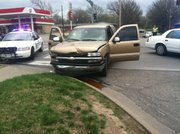 One person was transported to Kansas University Medical Center by helicopter following a two-vehicle accident at the intersection of 25th and Iowa streets Sunday at about 3:30 p.m.
According to Joe Hoelscher, division chief with Lawrence-Douglas County Fire Medical, a pickup truck ran a red light at the intersection, striking a two-door car.
Emergency crews extricated at least one of the two occupants of the car. A male occupant was taken to KU Med by a LifeStar helicopter, while a female occupant was taken to Lawrence Memorial Hospital, Hoelscher said.
None of the multiple occupants of the truck was taken to the hospital.
Hoelscher said it was not initially clear which direction the vehicles were going when the accident occurred, and he was not able to provide ages for the victims.
Check LJWorld.com for updates as they become available.
25th and Iowa Street
Copyright 2018 The Lawrence Journal-World. All rights reserved. This material may not be published, broadcast, rewritten or redistributed. We strive to uphold our values for every story published.