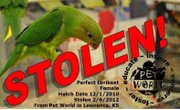 The theft of a rare bird, a lorikeet named Sassy Girl, from Pet World, 711 W. 23rd St., has broken the hearts of at least two area children.
"I was just really sad and mad at the same time," said Ryley Wheat, 9, a third-grader at Quail Run School.
Ryley became close to Sassy Girl, who was stolen Feb. 6, during animal camp at the store. He had been pinching pennies and saving up ever since to buy the $900 bird.
"I really wanted to buy that bird," said Ryley, who had stuffed away $400 doing chores and collecting birthday money.
Reagan Garcia, 8, a second-grader at Broken Arrow School, also "fell in love" with Sassy Girl at the camp, said Reagan's mom, Aimee.
"She was devastated," said Garcia when they saw a post on Facebook about the theft.
Bird thefts are rare, said Sherry Emerson, Pet World co-owner, and this was just the second bird theft from the store in 24 years.
Emerson said the theft occurred during a busy day; she estimates about 50 customers, as well as a tour, were in the store at the time of the crime.
She thinks that several thieves were working together, distracting employees. Sassy Girl was housed in an open bird cage with one other bird.
An employee noticed the bird missing after a few minutes and called police.
The biggest concern right now, Emerson said, is the bird's health. Lorikeets, a medium-sized parrot native to southeast Asia and Australia, require a special nectar diet. Regular bird feed will make the bird sick, Emerson said.
Emerson said she's hopeful the bird will be found or returned. It's such a rare bird, she said, that those in the bird community will be suspicious if someone brings it to a store or tries to sell it. The other bird that was stolen about 10 years ago was left at another pet store, which called Emerson and returned the bird.
Ryley is still shaking off the shock of the theft and has a message for the thieves.
"You should not steal any pet," he said. "You should just give it back.
Copyright 2018 The Lawrence Journal-World. All rights reserved. This material may not be published, broadcast, rewritten or redistributed. We strive to uphold our values for every story published.