Photo Gallery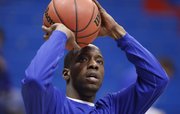 KU vs. Texas
2012 KU senior speeches
KU vs. Texas
Press Conferences & Post-Game Interviews
KU coach Bill Self
Kansas coach Bill Self talks to reporters following the Jayhawks' 73-63 victory over Texas on March 3, 2012.
With 25 points, 14 rebounds and yet another victory, Kansas University junior forward Thomas Robinson put the final stamp on his player-of-the-year campaign during a 73-63 victory against Texas on Saturday at Allen Fieldhouse.
Count UT coach Rick Barnes among the growing number of people who think Robinson's monster season was enough.
"I told him after the game, if I had a vote, he would be my vote for (national) player of the year," Barnes said. "I know he's been through a lot the last couple years, but just the way he's carried himself and playing against him, he's terrific."
In what turned out to be a showdown between potential All-Big 12 stars, Robinson and UT junior J'Covan Brown put on quite a show during the second 20 minutes Saturday. While Brown got hot early, scoring nine of the second half's first 13 points, it was Robinson whose performance proved to be the difference.
"He causes problems," Barnes said of Robinson. "We just didn't have an answer for him tonight."
Added UT big man Clint Chapman, who finished with 10 points and seven rebounds in 28 minutes: "Give him all the credit. He's the best player in the country, and he took advantage of every opportunity that we gave him."
While most of Robinson's buckets came within the flow of KU's offense, Brown scored his game-high 33 points as a result of his gun-shy teammates. Limited to just 1-of-6 shooting and four points in the first half, Brown scored 29 points in the second half to keep Texas within shouting distance of the Jayhawks.
"I think he's been terrific all year, but what happens with our team is, Thomas (Robinson) is scoring (for KU), and I think our guys sit and wait for J'Covan to go down and do something," Barnes said. "It doesn't have to be this way."
Saturday's loss dropped the Longhorns to 19-12 overall and 9-9 in Big 12 play. Afterward, most of the attention at the postgame news conference turned to UT's status as a bubble team for the NCAA Tournament. Barnes said he would not lobby for his team because he didn't think it was necessary.
"I believe in that basketball committee," he said.
Still, he seemed like a coach who wished his squad would have done a little more during the regular season to secure its spot.
"We were in New Jersey, getting ready to play North Carolina State," Barnes recalled of the TicketCity Legends Classic back in November. "And about five minutes before the game, I could've counted everybody in the stands. There was not much atmosphere. I told the guys before the game, 'I promise ya, if you guys don't think this game's important, wait 'til March.'"
Texas is one of just six schools in the country to have advanced to each of the last 13 NCAA tournaments. With that streak in jeopardy, it's clear that the Longhorns are hoping to deliver one final message to the tournament committee at next week's Big 12 Tournament in Kansas City, Mo.
"Do we have to win another game?" Barnes asked. "I don't want to win just one. I want to win another one and another one and another one."
Added Brown: "I look at it like we have to win every game we play, every time we step on the court. It doesn't matter who we play. But if we go in there and don't execute and play for 40 minutes, we're gonna be home early."
Copyright 2018 The Lawrence Journal-World. All rights reserved. This material may not be published, broadcast, rewritten or redistributed. We strive to uphold our values for every story published.