Photo Gallery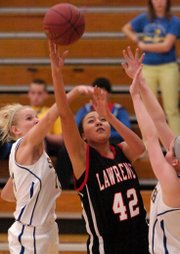 LHS girls vs. Olathe South
Olathe — Lawrence High girls basketball coach Nick Wood was able to leave his returning players with a good teaching moment following the Lions' 58-32 sub-state loss to Olathe South on Wednesday night.
The Lions controlled the first quarter, taking a 15-9 lead after eight minutes before the Falcons pulled away.
"That was the message: That's one of the best teams in the state, and for that first quarter, you gave them everything they wanted and made it a ballgame," Wood said. "We've got to get a lot better, but they have that ability in them. They've just got to believe it."
LHS was able to build its lead by getting good shots and making them.
Kionna Coleman had six first-quarter points on 3-for-3 shooting, while the Lions made five of nine field goals in the opening eight minutes (56 percent).
"We brought it to them. We had it," LHS senior Bri Anglin said. "We knew we could play with them. We just couldn't pull it together for all four quarters."
The Lions' defense also stepped up early, holding the Falcons to 3-for-22 first-quarter shooting (14 percent).
"That's a moment when I'm sitting down, I'm looking at those girls on the bench, and they're starting to see that they can be successful if we play the game the right way," Wood said.
Unfortunately for LHS, it all unraveled from there.
The Lions went just 1-for-9 from the floor in the second quarter with six turnovers, and the Falcons went on an 18-2 run to grab a 27-17 halftime lead.
"They just picked up the intensity," LHS senior Christina Haswood said, "and we didn't match it."
LHS added just four points in the third quarter — an offensive stickback by Krista Costa and two free throws from Monica Howard — as South put the contest away with a 15-4 spurt that made it 42-21.
It was the final game for LHS seniors Haswood, Anglin and Mutiyat Hameed, who added a layup late in the fourth quarter.
"We stuck together this time and played like a team," Hameed said. "It was good."
Howard led LHS with 10 points to go with eight rebounds.
Coleman, Haswood and Anna Wright added six points apiece.
South (19-2) was led by Alex Hugo's 19 points.
LHS (6-15) was disrupted mid-season by a pair of injuries. Emma Kelly and Costa had knee ailments that forced the Lions to change up their rotation.
Costa returned for LHS and played a few minutes off the bench Wednesday, but Wood said she wasn't at full strength.
"It was hard for (all) those girls to face that kind of adversity, but they didn't complain about it. They didn't pout about it," Wood said. "They showed up every day and worked hard, and that's all we can really ask out of them."
Copyright 2018 The Lawrence Journal-World. All rights reserved. This material may not be published, broadcast, rewritten or redistributed. We strive to uphold our values for every story published.