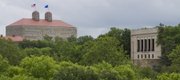 Subscribe to the email edition of Heard on the Hill and we'll deliver you the latest KU news and notes every weekday at noon.
Your daily dose of news, notes and links from around Kansas University.
• Here's a nice article from the Wall Street Journal that touches on a potential way out for Midwestern law school graduates looking for jobs in a difficult market. Specifically, it says that graduates ought to look more at rural areas.
The article updates the rather dismal stats that I and others have written about. As of February, the employment rate for students who graduated in 2011 is about 86 percent, the lowest for a class since 1994.
"The state of the current market … is the new normal," said Arturo Thompson, dean of career services at KU's law school, in the article.
It also talks about KU law's new "rural and solo practice program," designed to show students the ropes in both of those areas.
One obvious downside the article points out is the salaries are lower than in the big city, but there's no doubt that many small towns are in need of good lawyers.
• And here's an update on the boxing career of Victor Ortiz, who first made an appearance in Heard on the Hill in April 2011.
Since then, the Garden City kid who never attended KU but loves the school so much he puts Jayhawks on his boxing trunks, got knocked out by boxer Floyd Mayweather nine months ago. He fought again on Saturday, and lost to Josesito Lopez in a pretty big upset, suffering a broken jaw in the ninth round.
This article (written before Saturday's fight) gives a pretty good summary of how Ortiz's career was looking headed into the match.
The 25-year-old has expressed a desire in the past to come to KU once his boxing career is over, whenever that may be.
• It's always fun to watch when a KU professor's research goes "viral," so to speak. That's certainly been the case with KU professor Omri Gillath's study about what people's shoes reveal about their personalities.
Most recently, the staff at Forbes magazine had some fun with it, posting the shoes of the editor of Forbes magazine, an associate editor, two reporters, the director of digital imaging, three interns and an editorial assistant and asked readers if they could tell which was which based only on their shoes.
A colleague told me she heard Gillath on the radio late at night on the BBC. He's also been mentioned in the Wall Street Journal, the New York Daily News and in media outlets all across the world.
It's always interesting to see what kind of research folks will place pick up. Sometimes it's not always the most important stuff that comes out of a university but more the stuff that just seems to tickle people's fancies.
I'll always remember something former Chancellor Robert Hemenway told me once in the context of him sitting on a panel about college sports and its role in society. Hemenway, an English scholar, said he recognized that the demand for sports, and as much as he might enjoy one, he knew there wasn't ever going to be a poetry section in the local newspaper (though, as a colleague reminded me, this very local newspaper has been running "Poet's Showcase" on the books page for several years!).
• I'll keep writing a Heard on the Hill section for the local newspaper (well, the local newspaper's website, anyway), as long as you all keep sending me good tips to ahyland@ljworld.com.
Copyright 2013 The Lawrence Journal-World. All rights reserved. This material may not be published, broadcast, rewritten or redistributed. We strive to uphold our values for every story published.