The Douglas County Amateur Radio Club on Saturday had its annual Field Day, when amateur radio members practice their skills by making contacts all over the world.
"You get on air and see how many contacts you can make," said Fred Gantz, a club member for seven years. "(Field Day) gives you chance to exercise your ability to work a remote station … and practice the craft. Last year ... we were contacting stations that were maritime up in the northeast off the coast of Nova Scotia all the way to Hawaii and Alaska."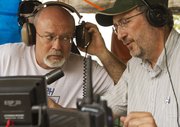 At Wells Overlook Park, south of Lawrence, 25 to 30 members huddled around tables laden with radios at the launch of the day Saturday. Members checked in with stations at 11 a.m. and started making contacts at 1 p.m.
They would continue contacting stations throughout the night, eventually setting up tents and working in shifts.

"The purpose of this is to ensure that we are capable of supporting the community in the event of a disaster," said amateur radio operator Bill Rubin. "This helps us make sure our equipment is functioning properly and we're able to operate."
To operate radio frequencies, you have to be licensed. There are three tiers of licensing: technician, general and extra. The exams designed for each tier grow progressively harder but are never too tough, Rubin said. Each test costs $14, but other than that, becoming an amateur radio member is inexpensive. With smartphones and the Internet, an actual radio isn't even necessary.
For many members, amateur radio is a lifelong interest. Travis Brann has been a member for 47 years. Brann worked in radio professionally for much of his life. At one point, he was involved in radar and missile guidance in the military. Ham radio is one way he keeps his love of technology robust.
"I enjoy coming out and helping with the setup," Brann said.
The National Guard brought their incident response vehicle to Field Day. The truck was loaded with gear, including a full suite of radios.
"Even though it looks like a rolling billboard, the vehicle we have here is not just for show," Col. Chris Stratmann said. "This truck has responded to real-world disasters multiple times."
Stratmann hoped the National Guard's presence would help boost public confidence in the Guard's capabilities, as well as strengthen its relationship with the Amateur Radio Club.
For Mark Randel, amateur radio signifies one way to help during natural disasters.
"In events throughout the world, we've found that ham radio is always there," Mark Randel said. "It's one of the most dependable ways to communicate."
Copyright 2018 The Lawrence Journal-World. All rights reserved. This material may not be published, broadcast, rewritten or redistributed. We strive to uphold our values for every story published.