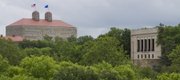 Subscribe to the email edition of Heard on the Hill and we'll deliver you the latest KU news and notes every weekday at noon.
Your daily dose of news, notes and links from around Kansas University.
• An open house is set for Wednesday to commemorate the latest Studio 804 project. For those not in the know, Studio 804 is for students entering their final year of the Master of Architecture program, and involves students designing and constructing a building.
This year, the project focused on a new building for Johnson County Community Colllege called Galileo's Pavilion.
The building, expected to become the class' fifth to achieve LEED Platinum status, features spaces that function as classrooms, a student lounge and coffee bar and an interactive display space. As with most of the projects in recent years, the building has a lot of environmentally friendly features like passive heating and cooling systems, rainwater harvesting and living wall and green roof trays.
The open house is scheduled for 12:30 p.m. Wednesday at the building at Johnson County Community College, 12345 College Blvd. in Overland Park.
• I mentioned recently the new food service options that will be coming to Gertrude Sellards Pearson and Corbin halls next fall, with a newly revamped Mrs. E's to follow next summer for Daisy Hill.
In chatting with Sheryl Kidwell, KU Dining's assistant director for residential dining, I also asked about the relatively new Mortar and Pestle Cafe in KU's new pharmacy building.
Kidwell said that while she doesn't oversee that facility directly, as it's a retail dining option as opposed to a service for students living in residence halls, it's still doing OK. Though the facility did have to trim back its serving hours a bit in the afternoons after not getting a lot of foot traffic during some times.
She said KU Dining would be ramping up some marketing efforts to promote the dining option, which is still the only campus eating option that's on West Campus, or "over the bridge," as Kidwell put it.
• I also wrote a little about bus services to KU Medical Center from Johnson County being cut for today's newspaper. Though I tried to get some sense of how that would affect life for commuters there, that information was a little hard to pin down.
Dwight Kasperbauer, KU Hospital's vice president of operations and human resources, did provide a written statement on the issue through a spokesman.
""Many of our workers in environmental service and food service depend of bus transportation. The Metro has very good service for our staff," the statement read. "I don't know how many employees depend of Johnson County buses, but any cutback of any bus service either limits options for current employees or limits our recruitment pool."
So we'll see what effect — if any — the bus cuts have on KUMC if they come to fruition. The only line serving KUMC from Johnson County ran from 107th Street and Nall Avenue in Overland Park to downtown Kansas City, Mo. It had about 11,000 riders per year.
• Regardless of which side of the bridge you typically inhabit, I'll still be happy to take your tips for Heard on the Hill at ahyland@ljworld.com.
Copyright 2017 The Lawrence Journal-World. All rights reserved. This material may not be published, broadcast, rewritten or redistributed. We strive to uphold our values for every story published.