Gospel of Luke, chapter 14, verse 11, reads, "Whoever exalts himself will be humbled and whoever humbles himself shall be exalted."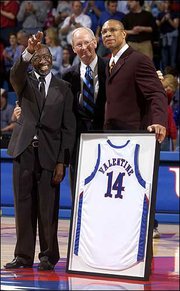 Lafayette Norwood, a successful basketball coach at the high school, college, junior college and AAU levels, and a winning golf coach at Johnson County Community College, no doubt knows this because he is an "avid reader of the Bible," according to someone who would know. Norwood also embodies that message every day of his life, said the same person.
Naturally, it would be a verse from chapter 14 from the book Norwood reads repeatedly that would capture him best, and of course it's the No. 14 tee box at Alvamar Country Club behind which Norwood lives.
For decades, Norwood and the most decorated No. 14 in Kansas University basketball history, Darnell Valentine, have been inextricably linked.
In KU's record books, Valentine ranks No. 1 in steals (336), No. 5 in assists (609) and No. 6 in points (1,821). A member of the 1980 Olympic team, three-time Academic All-American, four-time All-Big Eight selection, 1981 second-team Associated Press All-American and first-round draft choice of the Portland Trail Blazers, he shares the credit for every one of those accomplishments with the man he considers more than his former basketball coach.
"He's been a surrogate father for me," Valentine said Saturday. "There's not much I can reflect on in this lifetime that hasn't involved him, either directly or indirectly."
Valentine came to Lawrence from his home in Portland, Ore., this week to partake in Friday night's Rock Chalk Roundball Classic that benefited three local families fighting cancer.
"And then for it to fall when I could spend part of Father's Day with coach, it was just perfect timing," said Valentine, whose jersey was retired in 2005.
Norwood was Valentine's head coach at Wichita Heights High and assistant at KU in addition to being a lifelong mentor.
Valentine contacted me through mutual friend Mike Easterday in hopes he could share with the community his belief that Norwood is "a treasure, a secret that's quietly kept. I wanted him to get a little acknowledgment, even though he's the last one to want to attract any attention to himself."
How cool is that?
As is the case on every one of his trips to Lawrence, Valentine's staying with his coach.
"I've got my room and if there are other guests, he has them move to another room or to a couch because that's my room," Valentine said.
It's been a tough couple of years for Norwood, 77. He lost his wife of 56 years, Betty Ann, in 2010, his son, Seth, 42, in 2011.
"His testimony is so strong," Valentine marveled. "He's certainly hurt and he's certainly trying to find a way through these tremendous losses, but in his quiet way, people can look and see how he's responded and they can have hope and get some kind of sense that in times of great loss, if you have your life in order, it's possible to get through the difficulty. He's one of those kind of guys that you can tangibly touch and say, 'There's an example, if we're able to do it right, we can get through this.'"
A nine-year NBA veteran, Valentine credits much of his basketball success to Norwood, but said he learned more "intellectual, spiritual and emotional" lessons from him than basketball. He said he'll continue to find ways to "kill two birds with one stone," on trips to Lawrence, as he did this week.
"You can look at the records and figure out that he's 77," Valentine said. "The next 10 years are going to be quality years. I want to siphon as much of him and his spirit as I can."
Valentine knew that if he waited for Norwood to exalt himself, it never would happen, so he did the exalting and shared the secret of a hidden local treasure. Nice of him to do so.
Copyright 2018 The Lawrence Journal-World. All rights reserved. This material may not be published, broadcast, rewritten or redistributed. We strive to uphold our values for every story published.