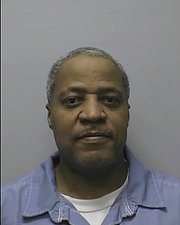 Convicted Douglas County murderer Wilford Molester Galloway has been passed for parole until June 2014, according to Jan Lunsford, spokesman with the Kansas Department of Corrections.
Galloway was convicted of first-degree murder in the 1997 shooting death of Floyd White. According to court records, Galloway shot White during an argument just outside of Lawrence, and left White's body on the side of a road. Galloway was sentenced to life in prison, but became eligible for release in June after serving 15 years behind bars. Galloway is incarcerated at the El Dorado Correctional Facility.
The Kansas Prison Review Board, which makes parole decisions, can pass an inmate for parole for up to 10 years.
Lunsford said a parole decision has yet to be made for convicted Lawrence serial rapist Charles Hunter, who is also eligible for parole this month. Hunter was convicted of a series of rapes and home invasions that occurred in December 1978 in Lawrence.
Copyright 2018 The Lawrence Journal-World. All rights reserved. This material may not be published, broadcast, rewritten or redistributed. We strive to uphold our values for every story published.