Lawrence Douglas County Fire-Medical crews put out a two-alarm fire in the 2100 block of Heatherwood Drive early Tuesday evening.
Division chief Joe Hoelscher said that firefighters arrived to a four-plex on the Peppertree Apartments property to see heavy smoke and flames. Flames were visible throughout the area, near Clinton Parkway and Kasold Drive.
The fire was primarily in the attic and broke through the roof. There were no injuries. Three of the four units were occupied, though no one was in the house at the time of the fire, he said. The Red Cross of Douglas County is assisting the seven displaced residents.
Hoelscher said he didn't know an estimated loss amount for or cause of the fire as of Tuesday night.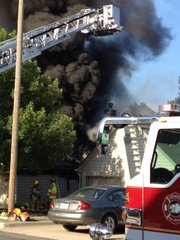 Copyright 2018 The Lawrence Journal-World. All rights reserved. This material may not be published, broadcast, rewritten or redistributed. We strive to uphold our values for every story published.