Emporia — Less than two weeks before Welch Stadium will become his new football home, Lawrence High graduate Anthony Buffalomeat made himself comfortable Saturday night at the Kansas Shrine Bowl.
The 6-foot-2, 180-pound defensive back wore the white and red of the East all-star team instead of the black and gold of Emporia State University, and didn't play any snaps at receiver, where he will line up for the Hornets beginning this fall. However, Buffalomeat looked cozy in his new digs, even on an extremely hot night that ended with a 14-7 victory for the West all-stars.
Not much action came the way of the former Lion until the second quarter, when he got in on a tackle with more than seven minutes to go. But a few plays later, Buffalomeat produced one of the game's first-half highlights when he stymied a would-be trick play. The starting left corner was only momentarily fooled when West quarterback Matt Reed threw a lateral pass to wide receiver Deante Burton on the right flank.
"I saw them pass it, so I went to make a tackle," Buffalomeat said. "Then I saw my man (keep) running, and I was like, 'Oh crap, it's a pass.'"
Buffalomeat took one hard step toward the line of scrimmage before diagnosing the trick play and turning to sprint deep down the field and make a leaping pick on the pass from Burton.
"I tugged (the intended receiver) a little bit. I think that helped," Buffalomeat admitted. "I just saw the ball floating. I knew the receiver threw it, so I had a chance to go get it. I just jumped up and it ended up in my hands — honestly, I don't even know how."
The athletic corner kept his balance and headed in the direction of the West's end zone, picking up 16 yards on his interception return following the only takeaway of the first half. Buffalomeat said he couldn't believe he had caught the ball.
"I knew I couldn't return it," he said, "but I just wanted to get as many yards as I could."
Buffalomeat, who finished with three tackles, played every snap on defense for the East on a cooker of a night, but got through it with a lot of fluids and some additional inspiration.
"Just playing for the team and the kids in Lawrence kept me motivated," he said.
The all-star game marked the culmination of a sneak preview of Emporia for Buffalomeat, who will return to Lawrence for just a few days before packing up and heading back to the ESU campus to embark upon his college career.
After representing LHS on the gridiron for the final time, Buffalomeat began to get the sense he is now a college football player.
"I just feel at home here," he said.
Local linemen start
Left guard Greg Snell of Eudora and defensive tackle Zach Callahan of Mill Valley joined Buffalomeat in the East's starting lineup. Snell took that responsibility as an honor.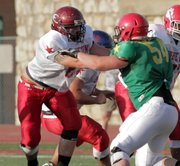 "When I came here, I didn't know if I was gonna be second-string, third-string or what," the 6-foot-3, 230-pound lineman said. "Manning a spot on the line's a pretty big deal in this kind of game."
Snell was on the field trying to hold off the West's pass rush late in the fourth quarter as the East trailed 14-7. The soon-to-be Baker University lineman said the game took on a Friday-night intensity at that point.
"It's a lot of pressure, but we've been preparing for this all week. I guess it just didn't fall together like it should have," he said.
Callahan assisted on a tackle for loss late in the first half and finished the game with three total tackles.
Cross country all-stars
Baldwin High's Abi Hartzell, Elizabeth Sigvaldson, Carol Whaley and Tosh Mihesuah were named to the East's Shrine Bowl all-star cross country team, as were Jordan Kline and Philip Kaul of De Soto.
In the women's two-mile race, Sigvaldson took 11th (13:55), Hartzell was 12th (13:55) and Kline finished 19th (14:42).
Kaul finished 18th in the men's two-mile race with a time of 11:15.
Mihesuah and Whaley didn't compete in the cross country event, which was moved up from an evening start to Saturday morning because of 100-plus degree temperatures.
Copyright 2018 The Lawrence Journal-World. All rights reserved. This material may not be published, broadcast, rewritten or redistributed. We strive to uphold our values for every story published.