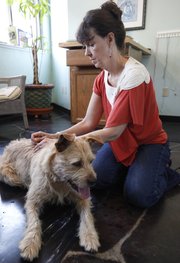 Cathy King, a holistic veterinarian, sometimes jokes about what she calls a "case dispensary in the sky."
That omnipotent being that determines what sort of animals will walk into her office. And in some cases, those animals are carried. That was the case a couple years back when a woman brought in a small poodle who had blown a disc and could not walk.
"We were well beyond (a surgical) window, and that was not an option. I said, well, you leave him with me for 2 weeks. I'm going to give him acupuncture every day and we'll see what happens," King said. "Two weeks later, he walked out. To me, the lesson was, this is what's possible. And then (the owner's) biggest problem was she couldn't keep him from dancing on his back feet."
King is a veterinarian who specializes in natural pet care: acupuncture, Chinese herbal medicine, food therapy and Tui-Na (massage).
King has been a veterinarian since 1984, but shifted her practice to focus on natural health in 2000. Originally she worked house calls. But business bloomed so much that she opened her current office, Kaw Valley Natural Pet Care, 514 E. Ninth St., which has been open since 2004.
As a holistic veterinarian, King uses all the tools a veterinarian normally does — stethoscope, otoscope, ophthalmoscope — but she also uses pulse and tongue diagnostics.
When she examines an animal, she looks for imbalances.
"Your diagnosis in Chinese medicine is, what is the imbalance?" King said. "I do a lot of nutritional guidance, offering suggestions that would create balance and harmony."
When King locates a problem, she uses a number of methods to treat it. Among them is Tui-Na, a form of massage that involves pressing the body at acupuncture points. King teaches pet owners how to do it to hasten recovery.
King also uses acupuncture. Using her hands, needles or a laser, King has helped debilitated dogs recover from paralysis.
Like Astra, a whippet, who had two neck vertebrae that looked like moth-eaten hunks on her X-ray, damage from possible trauma. Astra couldn't walk, but after 3 months of acupuncture, she is tramping about energetically.
In recent years, King is seeing healthy pets.
"More and more I'm seeing well patients, people who want to … avoid going through the chronic illnesses that we see in our pets, just like we see in ourselves," she said. "We're starting to see more interest in the preventive aspect and wellness building, which is so exciting."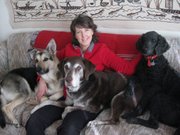 Copyright 2018 The Lawrence Journal-World. All rights reserved. This material may not be published, broadcast, rewritten or redistributed. We strive to uphold our values for every story published.