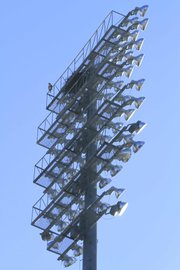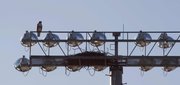 A family has moved to the Kansas University campus, and their neighbors love them, even if they do eat squirrels for dinner.
For the last three years, a family of red-tailed hawks has occupied a nest on a light pole at the northwest corner of Memorial Stadium. The hawks have become a curiosity for students and a welcome exterminator for a long-time campus pest.
"We love them," said Mark Robbins, collection manager of birds for the KU Biodiversity Institute. "It's helping because the squirrels are penetrating Dyche Hall. We have squirrels in here all the time, and we are hoping the red-tails will pick them off."
Robbins said the hawk family, which consists of a breeding pair and two or three juveniles, can go through three or four squirrels or other rodents a week.
KU sophomore Sara Hettenbach witnessed the hawks' hunting skills recently while walking down Jayhawk Boulevard.
"I saw something fly down, and it's this hawk, and he picks up this squirrel," she said. After yelling an expletive not printable in a family newspaper, she watched the hawk fly to the top of a light pole to eat its prize.
"I knew that campus has been having some legitimate squirrel problems, so, no, I wasn't freaked out by it," Hettenbach said. "I just thought it was cool."
But not everyone is as thrilled with the hawks' grisly activities.
Robbins said the Biodiversity Institute receives calls all the time about the hawks, which tend to be "cavalier" and buzz by students' heads. The juvenile hawks also have a habit of screaming, which Robbins explained was their way of begging their parents for food.
He did say that the group's behavior and tameness were unusual.

"They are usually a wary bird," Robbins said.
Red-tailed hawks have a wingspan of about 3 feet and rarely frequent urban and suburban areas, preferring fields and woods. Robbins suggested that the hawks nest by the football field because it is just that: a large, open field.
And, according to Brad Nachtigal, associate athletic director, the hawks are welcome to stay as long as they like.
"If you ask me, I don't mind at all," he said.
The 4-foot nest is positioned so it doesn't interfere with light maintenance. Nachtigal just hopes the hawks will decide to eat some pigeons as well, which he said also are a problem across campus.
Robbins said the birds usually just eat mammals. But even if they aren't taking care of the pigeons, he said, they still are an asset to campus, perhaps inspiring a comparison to a certain feathered mascot.
"People should go, 'Oh, wow, great; they are taking care of some of our problems,'" he said. "Also, they are just a magnificent bird to see."
Copyright 2018 The Lawrence Journal-World. All rights reserved. This material may not be published, broadcast, rewritten or redistributed. We strive to uphold our values for every story published.