Three months removed from the end of a 13-8 season, the Lawrence High boys basketball team reconvened this summer with a nearly unrecognizable lineup.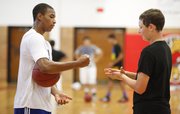 Four of their top six players from 2011-12 had graduated, big man Bryce Montes de Oca was out the entire month of June with an elbow injury and starting guard Shane Willoughby was concentrating on baseball.
The Lions looked small and relatively inexperienced heading into a heavy schedule of summer league games and tournaments. Only senior guard Jake Mosiman, a sixth man last season, and sophomore guard Anthony Bonner, who played a few varsity minutes here and there, could be considered LHS veterans.
Playing a rotation nearly filled with guys getting their first taste of varsity basketball, the Lions got through their Rockhurst University summer league, the KAMO tournament and the Kansas University team camp with an 18-7 record.
Upon wrapping up the last of the team's summer workouts this week, Lawrence coach Mike Lewis couldn't have been more pleased with the successful development of the new group of players.
"Some of the younger guys now are starting to jell with some of the older guys," Lewis said, adding the players had similar personalities and worked hard. "That's definitely a big bonus for us."
Outside of Mosiman, who averaged eight points a game last season, the team's new senior class gained most of its experience on the junior varsity level. Of the seniors, Lewis said guard Austin Abbott and forwards Derrick Williams and Sterling Fuller, along with Mosiman, stepped up for LHS this summer. But the group worked so well as a whole because the younger players were just as ready to contribute. The coach said Bonner, Connor Henrichs, Dylan McKee, John Barbee and freshman point guard Justin Roberts (a transfer from Florida) established themselves as legitimate options, too.
The Lions, Abbott said, were much taller last season, especially on the perimeter. But a lack of length doesn't have to be a bad thing.
"We get up and down the floor really quick," Abbott said. "We have so many guards, we can do a lot of things with everyone on the court."
One of the keys to Lawrence's summer was its balance. Abbott said maybe Mosiman would lead the scoring attack one game, then Bonner the next or Roberts in another. Even better, they could mix and match lineups without much drop-off in production.
Playing primarily guards and a couple of small forwards because of Montes de Oca's injury, Lawrence really pushed the tempo this summer. Fuller had no complaints about that.
"It helps us a lot to be more of a run-and-gun team," the forward said. "That helps me as a big man to work on getting faster on the court."
Mosiman said the Lions will be quite different from last year, and Roberts emerged as a very good point guard.
"I don't think there's anybody like him in Lawrence right now," Mosiman said, "so he'll be tough to guard."
Winning without Montes de Oca, he added, was a good sign. The 6-foot-7 junior was cleared to play just more than a week ago, and Mosiman said the Lions can't wait to have him back in the middle.
The most important part of the summer, Lewis said, was that LHS learned it is far from perfect — one game in particular made that abundantly clear. The Lions got beat up by Lee's Summit West, one of Missouri's top teams. Lawrence found out its ball handling needs a lot of improvement if it wants to contend in Class 6A and the Sunflower League. Lewis said there is plenty of work to do before his team will truly be ready for the season.
"It'll be here before we know it," he said.
Copyright 2018 The Lawrence Journal-World. All rights reserved. This material may not be published, broadcast, rewritten or redistributed. We strive to uphold our values for every story published.