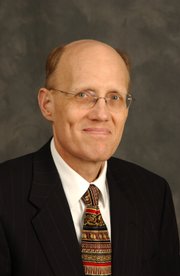 A longtime faculty member and administrator at Kansas University's School of Medicine in Wichita will become the new dean of the campus after H. David Wilson, the current dean, announced on Tuesday his intention to leave for another position in Kentucky.
Garold Minns, associate dean for academic and student affairs, will assume the role of dean on Aug. 1 and will work with Wilson through September to ensure a smooth transition, according to a release from the school.
Wilson, who has been dean of the school in Wichita since 2009, accepted a position as special assistant to the dean for educational development at the University of Kentucky College of Medicine.
"The KU School of Medicine-Wichita has benefited tremendously under Dean Wilson's leadership," said Steven Stites, acting executive vice chancellor at KU Medical Center and acting executive dean of the School of Medicine, in a written statement. "We are enormously grateful for his service."
Minns is a Kansas native who graduated from the KU School of Medicine in Wichita and completed his residency and training on the school's Wichita campus. He became a faculty member at the school in 1980, and served as the chairman of the department of internal medicine from 1994 to 2003.
Before coming to KU, Wilson served as dean and professor of pediatrics and vice president for health affairs at the University of North Dakota School of Medicine and Health Sciences. While at KU, he helped oversee the Wichita campus' transition to a four-year medical school, and helped raise $4 million for the effort.
A KU Medical Center spokeswoman said Minns' salary had not yet been set, but he had agreed to take the position in any event.
Copyright 2017 The Lawrence Journal-World. All rights reserved. This material may not be published, broadcast, rewritten or redistributed. We strive to uphold our values for every story published.