UPDATE: The Amber Alert issued this morning for 3-year-old Anthony Hernandez of Arkansas City has been canceled. He was last seen with Francisco Lopez. Lopez is in custody, and the boy is safe. They were located near Arkansas City.
ORIGINAL STORY: An Amber Alert is in effect in the search for Anthony Hernandez, a 3-year-old last seen in Arkansas City yesterday.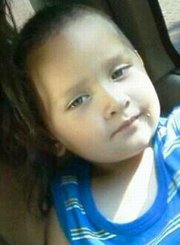 Hernandez is described in the alert as a white male who is 2 feet 5 inches tall and weighs 38 pounds. He has brown hair and hazel eyes, and was last seen wearing a yellow tank top, black-and-yellow shorts and shoes with the character SpongeBob SquarePants.
The Kansas Bureau of Investigation identified Francisco Lopez as a suspect. Lopez is described as a white man who is 5 feet 5 inches tall and weighs 200 pounds with brown eyes and no hair. Lopez's car was found in Arkansas City, but officials believe he may have Hernandez and is traveling on foot.
Anyone with information can call 911 or the KBI at 1-800-572-7463.
Copyright 2018 The Lawrence Journal-World. All rights reserved. This material may not be published, broadcast, rewritten or redistributed. We strive to uphold our values for every story published.