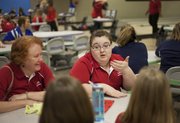 Lawrence High sophomore bowler Kierstan Warren did the math, and heading into her final frame during Thursday's home invitational, her three-game total sat at 598.
Two tournaments ago, she'd bowled a 596 series. Last tournament, she'd bowled a 597.
Coach Paula Bastemeyer had joked with her earlier in the week, saying Warren was sneaking up on a 600 series and trying not to frighten it away.
"I was scared," Warren said. "I was honestly scared to death."
Turned out there was no need to be. Warren finished out her final frame strong, posting a career-best 620 series to lead the LHS girls to a second-place finish of five teams at Royal Crest Lanes on Thursday.
"I know the lanes, and I worked them," Warren said with a smile. "And I finally got my 600."
Warren had posted a 600 series only twice in her career before Thursday, and she'd never gotten higher than 613.
The sophomore also posted her best game of the season, when she opened with a 249.
She said part of the reason for her success was keeping her spirits high. She does that by singing Eminem's song "I'm Not Afraid" to herself while bowling — a song she listens to before every competition.
"It was a really good day," Warren said. "I'm not just proud of myself — I'm proud of my team, because I probably wouldn't be bowling how I am if I didn't have the team I do to support me."
LHS's girls posted a team total of 2,068, which trailed only Topeka Seaman (2,207). Rebecca McNemee (502) and Zoe Reed (477) were Lawrence's top scorers behind Warren.
On the boys' side, the Lions placed fourth of five teams with a score of 2,265.
Senior Riley Gentry led LHS, posting a season-high 599 series. Like Warren, his first game was his best, as he bowled a 220.
"I never string strikes very consistently. I pick up more spares than I do strikes," Gentry said. "But I had three in a row at two points in that game, so that carried me over 200."
The four-year high school bowler has progressed during his career, moving from an 11-pound ball to a 15-pounder while also picking up more hook and control on his throws.
Lawrence's Isaiah Ross finished behind Gentry with a 573 series, while Pace Leggins was third on the team with a 527.
Seaman's Ashton Bigger posted the highest boys' score, leaving the 10-pin on his final ball to record a 299.
Copyright 2018 The Lawrence Journal-World. All rights reserved. This material may not be published, broadcast, rewritten or redistributed. We strive to uphold our values for every story published.