Photo Gallery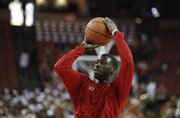 KU vs. Texas
Press Conferences & Post-Game Interviews
KU coach Bill Self
KU coach Bill Self talks to reporters following the Jayhawks' 69-66 victory over Texas on Jan. 21, 2012.
Press Conferences & Post-Game Interviews
Tyshawn Taylor and Thomas Robinson
Tyshawn Taylor and Thomas Robinson talk to reporters following the Jayhawks' 69-66 victory over Texas on Jan. 21, 2012.
Austin, Texas — Texas guard J'Covan Brown took Saturday's 69-66 loss to Kansas University the hardest after missing a potential game-tying three-pointer from the left wing at the buzzer.
"If I want to be a big-time player, big-time players have got to hit big-time shots," Brown said, "and I didn't make it tonight."
During times at the postgame news conference, Brown's mind seemed to wander. While a teammate was answering a question, Brown leaned back in his chair with both hands on the top of his head while staring at the ceiling. He puckered his lips, he twitched them left and right, and it was obvious the guard was replaying the final shot in his mind.
"Just frustrating I'm not finishing," Brown said. "Those guys rely on me to make those shots. If you're not making them, then I wouldn't get mad if they put it in their head that, 'J'Covan's not making any shots. We've got to go to somebody else.'"
The junior, who came in leading the Big 12 with a 19.2 point-per-game scoring average, said he was surprised at how KU defended his last shot.
Though he expected KU forward Justin Wesley to switch on a screen to guard him, he said that isn't what happened.
"When I saw him, he backed off, and I just raised up," Brown said. "He contested it at the end, but it was an open look for me. And it just didn't go in."
Brown finished with 24 points, but he was just 7-for-26 from the floor. His 26.9 percent field-goal percentage was his fourth-worst mark this season.
KU's primary defenders on him were Travis Releford and Elijah Johnson.
"They did their job, but really, my shots weren't going in," Brown said. "So it was really just all me. They worked hard, but some of the shots I missed, I usually make."
Texas coach Rick Barnes said that Brown's 26 field-goal attempts might have been a few too many.
"He took some he shouldn't," Barnes said, "but, again, there's pressure on him because other guys aren't working."
Even late in the game, after he'd missed a few, Brown said teammates like freshman guard Sheldon McClellan encouraged him to stay aggressive and keep shooting.
After Brown made two free throws with 1:53 left to give UT a 66-65 lead, he missed three of the Longhorns' final four field-goal tries: a three-pointer that was blocked, an off-balance baseline jumper and the game's final three.
"It starts with me," Brown said. "If I want to be a player, I've got to finish games strong. That's really what it is."
Copyright 2018 The Lawrence Journal-World. All rights reserved. This material may not be published, broadcast, rewritten or redistributed. We strive to uphold our values for every story published.