It had been a long six weeks since Lawrence High's girls basketball team left the locker room after a game with smiles on their faces, indulging in the pleasant aftermath of a victory.
Photo Gallery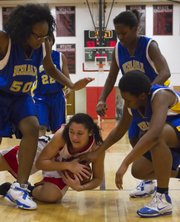 LHS girls vs. Schlagle
BOX SCORE
Kansas City Schlagle (21)
LaShawnda Daniels 3-9 1-4 8, Tia Campbell 0-5 0-0 0, Bianca Ledesma 1-5 0-0 2, Tanyesha Colding 1-12 0-0 2, Chanel Tyler 1-4 0-1 2, Ny'sa Scott 2-4 1-2 6, Alicia Terrell 0-6 1-2 1, Tyliese Wallace 0-1 0-0 0. Totals 8-46 3-9 21.
Lawrence (56)
Monica Howard 4-6 0-0 8, Kylie Seaman 1-2 0-0 2, Marissa Pope 2-2 0-0 4, Kionna Coleman 4-9 0-0 8, Christina Haswood 2-9 0-2 5, Anna Wright 4-7 3-4 12, Bri Anderson 3-5 1-2 7, Emma Kelly 1-2 0-0 2, Bri Anglin 0-1 0-0 0, Mutiyat Hameed 2-2 0-0 4, Krista Costa 2-3 0-0 4, Jolana Shield 0-1 0-0 0, Sami Buffalomeat 0-1 0-0 0. Totals 25-50 4-8 56.
KCS 9 4 2 6 — 21
LHS 11 17 18 10 — 56
Three-point goals: KCS 2-12 (Daniels, Scott); LHS 2-9 (Haswood, Wright). Fouled out: None. Turnovers: KCS 22, LHS 16.
The Lions couldn't help but grin once again Tuesday night following a 56-21 beating of Kansas City Schlagle that snapped a five-game losing skid with an exclamation point.
As it turns out, it was Lawrence's most recent loss — this past Thursday at Olathe South — that planted the seeds for the team's return to the win column. LHS coach Nick Wood said the 57-43 road setback helped the girls learn that they are capable of competing.
"We started to see it last week, that this type of effort was coming and we had it in us," Wood said. "That was kind of our breakthrough moment."
The Lions (3-5) could also see the development coming along at practices in the days leading up to their home game with the Stallions (3-5), junior guard Anna Wright said after scoring a game-high 12 points.
"That made us play harder, and it kind of transferred over to this game," Wright said.
Sophomore forward Kionna Coleman agreed, and said LHS had the right mindset.
"We definitely came with aggression," Coleman said after scoring eight points and grabbing six rebounds.
Lawrence really began asserting itself in the second quarter, stretching a two-point lead to a 22-11 advantage in less than four minutes. Christina Haswood drilled a three-pointer on the first play of the second quarter, and LHS kept rolling with a runner by Marissa Pope, back-to-back scores (one inside, one outside) from Monica Howard and a driving layup by Wright that was set up by a Bri Anglin pick in the lane.
Even though Lawrence would outscore Schlagle 17-4 in the second and head to halftime with a 28-13 lead, Wood said the last four possessions of the half — the Lions failed to get a shot off and turned the ball over four times — were "atrocious," and proved they have a lot of things to work on.
"We could've walked in at halftime having complete control of the game, but we didn't take care of the ball enough," the coach said.
The LHS players heard about the value of every possession at the break and responded with a 9-for-14 shooting performance in the third quarter, with just one turnover. Wood was pleased to see the Lions getting steals, flying all over the court and putting the game out of reach.
"I thought our energy in that third quarter was awesome," Wood said.
That renewed, focused energy showed from the opening minute of the second half, as Coleman scored after rebounding her own miss. Lawrence went on to outscore the Stallions 18-2 in the third with four points apiece in that stretch from Coleman and Mutiyat Hameed, and one basket each from Howard, Bri Anderson, Krista Costa, Wright and Kylie Seaman.
Said Wright: "We went more in attack mode and took care of the ball a lot more."
Wood said it wasn't Lawrence's best performance of the season, but he liked the balanced production, calling it "a great team win."
Considering LHS had been on the wrong end of such games, losing four in a row by 14 points or more, the Lions were happy to reverse that trend with a blowout victory. It was a much-needed step in the right direction.
"We've just got to continue to build on it," Wood said of the win, "and understand who we are as a team and play to our strengths."
At 7 p.m. Friday, the Lions play at Emporia.
— Check out Benton Smith's "Prep Appraisals" from the game.
Copyright 2018 The Lawrence Journal-World. All rights reserved. This material may not be published, broadcast, rewritten or redistributed. We strive to uphold our values for every story published.