Photo Gallery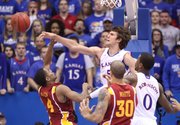 KU vs. Iowa State
Kansas University's 2002 Final Four team was recognized during a first-half timeout.
Those who attended: players Wayne Simien, Jeff Hawkins, Lewis Harrison, Todd Kappelmann and Chris Zerbe; trainer Mark Cairns; and managers Jessica Zuniga and Jeff Hackel.
NBA players Drew Gooden, Nick Collison and Kirk Hinrich couldn't attend.
"That shows you how good that 2002 team was. Most of the guys are playing in the league," said Hawkins, head boys basketball coach at Perry-Lecompton High. "It shows how great of an organization Kansas basketball is."
The 2001-02 team went 33-4 overall and 16-0 in the Big 12.
Asked his No. 1 memory of that team, Hawkins said: "The Final Four ... Atlanta."
KU lost to Maryland, 97-88, in the semifinals.
"We were always close, tight-knit," Hawkins said. "It's something that was one of our strong points and helped will some of our wins — how tight and close we were."
The members of the team who attended posed for pictures with fans after the game.
"Ten years go by fast. I know that," Hawkins said. "It's always good to come back and be around the guys."
Better than OU game as frosh: Tyshawn Taylor scored a career-high 28 points, surpassing his 26-point outing as a freshman in an 87-78 victory at Oklahoma on Feb. 23, 2009.
"This is a good game to have a career-high in, but the OU one was special to me, too," Taylor said. "I remember that game like it happened yesterday. It took me 21 shots to get that career high (vs. ISU). That's something that's got to be cut down. I made some shots when they counted the most and we needed them. I think that's something to be proud of."
T-Rob missed most of run: KU All-America candidate Thomas Robinson missed most of the 30-9 run that turned a 52-40 deficit (at 16:59) into a 70-61 lead with 8:28 left. It's because Robinson's teammates were playing so well with him out at the time.
"That's not a knock on Thomas. I think everybody picked it up, but we were better with Thomas on the bench," coach Bill Self said. "Then Jeff (Withey, 13 points, 11 rebounds, 7 blocks) needs a blow, and it worked out great. We got him (Robinson) back in there, and he got every rebound late. Then he (Robinson) made the pass of the game to Jeff for a three-point play (basket and foul shot, giving KU 78-71 lead with 2:59 left).
"I told our guys afterward, 'No disrespect to you, Thomas, but we were better without you for a stretch during our best run. So that should give us confidence when you get two fouls in the first half moving forward.' I was proud of Thomas. I thought considering the lack of production, the lack of touches, the way they guarded putting two guys around him all the time, I thought he showed good patience and poise today."
Stats, facts: KU overcame a 12-point second-half deficit to win. It's KU's biggest deficit in a victory since trailing by 12 versus Colorado in last year's 90-83 Big 12 tourney win. ... KU was outrebounded 49-41. Towson is the only other team to outrebound KU this season. It was KU's worst rebounding margin since Texas outboarded KU by nine last season. ... KU committed seven turnovers, fewest since five in the opener vs. Towson. ... Royce White's 17 rebounds were most by an opposing player since Iowa State's Jackson Vroman had 19 on Feb. 21, 2004. ... Taylor set career highs not only in points, but field goals (10), field-goal attempts (21) and three-point field-goal attempts (nine). He had a season-best four steals. ... Robinson had his 12th double-double of the season (14 boards, 11 points) and Jeff Withey (13 points, 11 boards) his third. ... Withey set a career highs with six field goals and 10 field-goal attempts. ... Withey had seven blocks to move into a tie for 23rd on KU's all-time list with Wayne Simien (78). He had a career-high nine blocks vs. Long Beach State. ... Taylor's 28 points moved him into 35th place on KU's all-time scoring list with 1,197, passing Aaron Miles (1,183). ...KU is 4-0 in Big 12 play for the fifth time in the Self era and the 12th time in the 16-year history of the conference. ... KU has won 13 straight games vs. Iowa State. ... Overall, KU has won 15 straight games in Allen. ... Self is 16-2 vs. ISU. ... Self coached his 300th game at KU. He has a record of 251-49.
Self on undefeated Baylor: "They are really good. I guess they won by 40 today against Oklahoma State and probably didn't even break a sweat doing it. I wish we had one more day to prepare, but our guys will be excited to play, no question."
Copyright 2018 The Lawrence Journal-World. All rights reserved. This material may not be published, broadcast, rewritten or redistributed. We strive to uphold our values for every story published.