Photo Gallery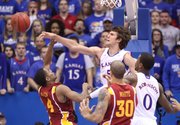 KU vs. Iowa State
Much-criticized Tyshawn Taylor, who sparred with some Kansas University basketball fans on Twitter little over a week ago, said he definitely "felt the love" Saturday afternoon in Allen Fieldhouse and again Saturday night on the Internet.
"The fieldhouse was going crazy today. My teammates were going crazy. It was a good feeling. I love when the fieldhouse is like that," the 6-foot-3 senior point guard said after exploding for a career-high 28 points off 10-of-21 shooting (3-of-9 from three) in the Jayhawks' 82-73 come-from-behind victory over Iowa State.
Taylor scored 22 points the second half off 8-of-12 shooting, including 15 in a 30-9 run that turned a 52-40 deficit (at 16:59) into a 70-61 lead with 8:28 left.
"It's an amazing feeling, man. I can't really describe it. How I was feeling at that moment was incredible," Taylor said of soaking in the roar of the crowd after he accepted a pass from Travis Releford and hit a layup, forcing ISU to call a timeout with KU's lead up to 70-61. "You want to win the game. That's what it comes down to, winning the game. I felt good."
He made his Twitter followers feel downright dandy after propelling KU to its 14th victory against three losses, including a 4-0 mark in the Big 12.
"Big-time players for big-time games," wrote one user on the website that caused so much controversy the night before last Saturday's OU game when Taylor felt the need to respond to some KU fans who bashed his play.
"Taylor makes shots when it matters most," wrote another.
"My young boy said, 'There's nothing Ty can't do, dad.' My son will sleep in his jersey tonight. Thanks for the show. It made his day," penned one more to the Hoboken, N.J., hero.
KU junior Thomas Robinson, who sat out most of the 30-9 run with his teammates playing so well at the time, echoed some of Taylor's Twitter followers by saying: "I though he was amazing. He played great during that stretch with us coming back. He hit some big shots."
KU vs. Iowa State
Taylor hit a three to knot the score at 59 and another trey to boost a three-point lead to 66-61. Earlier, he also cashed an eight-footer to cut ISU's lead to 52-47 and a layup and foul shot to cut the gap to 54-50. It all mattered, Taylor describing it as KU "grinding away" after being 12 down.
"We were down, and T-Rob was on the bench. I was like, 'I've gotta play. I've got to do something. I've got to make something happen,'" Taylor said of his attitude during the second-half surge. "They kept trying to go under the ball screens on me, so I stepped up. I made the first one, then they did the same thing to me the second time. I shot it confidently, and it went in. That kind of sparked the run a little bit."
KU coach Bill Self said, "He (Taylor) bailed us out offensively and guarded better the second half. He was terrific.
"I told him after the game — and he played great — but your point guard can't get 21 shots and your best player (Robinson) get zero the second half (en route to 11 points, 14 rebounds in 32 minutes). That's something we have to do a better job of, not just him (Taylor), but the whole team understanding that. I thought Tyshawn was fabulous for a stretch, probably as good as I've seen him play."
Taylor, who had six assists, four steals and four turnovers, impresses Self by the fact, "he's usually in attack mode. He gets in the paint. When you get in the paint, you force help, and good things happen."
Self wouldn't go overboard in praise of Taylor, not with a huge game against Baylor (17-0, 4-0) looming at 8:30 p.m. Monday, in Allen.
"When you guys (media) tell him he's really good, that's probably when I want to tell him he took too many shots," Self said with a smile "When people are talking (negatively) about him, I'm probably going to say, 'Don't listen to anybody. I think you are playing great.' He is a scrutinized player. He's also the point guard at Kansas. That goes with the territory."
Also part of that is the praise the point guard at KU receives after an effort like Saturday's.
"Heard Tyshawn put the work in," former KU point guard Sherron Collins, a pro player in Turkey, wrote on Twitter after the game. "He is a senior. He knows what to do. Good job, lil bro."
"Great win for my Jayhawks. Proud of the Lil bro, Tyshawn," wrote former KU combo guard Mario Chalmers of the Miami Heat.
Taylor's top tweet of the night in suddenly cheery Twitter-land?
"Good win ... way to fight fellas."
Copyright 2018 The Lawrence Journal-World. All rights reserved. This material may not be published, broadcast, rewritten or redistributed. We strive to uphold our values for every story published.