Photo Gallery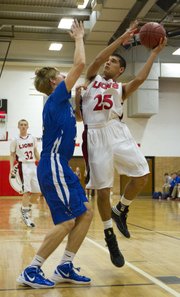 LHS boys vs. Rockhurst
Rockhurst wasn't the type of team that Lawrence High wanted to play 24 hours after Friday's match-up with Olathe Northwest.
With tired legs and facing a physically imposing opponent, the Lions fell to the Hawklets, 63-45, on Saturday at LHS.
"Their offense really wears you down," Lawrence senior guard Logan Henrichs said.
Henrichs said trying to focus and compete from behind expended what energy the Lions had left. Lawrence players also ran into constant screens and had to deal with big men relentlessly attacking the boards.
Considering the opponents, coach Mike Lewis said his team played well both Friday and Saturday. And LHS (4-3) wasn't completely out of it against Rockhurst (9-2). The game was mostly lost on tough breaks.
"We had a lot of shots go in and out, and we needed those to give us momentum," Lewis said.
After a second quarter in which the Hawklets outscored the Lions, 11-2, LHS was in catch-up mode. The Lions made a 9-2 run to close the third quarter and bring the deficit to six.
Then, in the first minute of the fourth quarter, the Hawklets scored nine unanswered points to break the game wide-open.
That wasn't the way Lewis drew it up during the intermission.
"The game was pretty physical, and we weren't going to give away any easy layups," Lewis said. "Sure enough, they make a quick layup, then we turn it over, and they hit a three."
Several of the key players for LHS struggled, mostly because of Rockhurst's inside presence.
Lions senior forward Anthony Buffalomeat, who scored 20 points Friday, disappeared at times and finished with just four points.
Senior guard KJ Pritchard made a couple of threes, but couldn't find room in the lane to create enough plays. He finished with eight points.
Henrichs said players needed motivation to fight through the fatigue at times.
"We were talking about it throughout the game — about how tired we were, and how we had to pick each other up," Henrichs said.
Compared to the rest of his team, Henrichs was somewhat rested because of an injury he sustained Friday. He had to sit out late against Olathe Northwest after he hit his head on the floor, and the team thought it might be a concussion.
Henrichs went to the doctor, who determined it wasn't a concussion, and he was cleared to play against Rockhurst. He did some shooting drills in the gym before Saturday's game and was ready to play, finishing with a team-high 13 points.
But his presence didn't help the outcome. Whether it was a loose ball or an open shot, the game just went in Rockhurst's favor.
"Like I was saying in the locker room," Henrichs said, "the ball was just rolling right into their hands."
The boys will a have a little rest until their next game at 7 p.m. Tuesday against Shawnee Mission Northwest.
Copyright 2018 The Lawrence Journal-World. All rights reserved. This material may not be published, broadcast, rewritten or redistributed. We strive to uphold our values for every story published.