Box score
Olathe Northwest 66, Lawrence 52
ONW (66)
Davis Reid 2-4 2-4 7, Graham Dobbins 0-0 0-0 0, Trey Bales 5-10 2-4 15, Shavon Shields 9-12 9-11 28, Colton Anderson 0-0 1-2 1, Sam Power 1-1 1-2 3, Willie Cauley 5-7 2-3 12, Jeremy Fennell 0-2 0-0 0. Totals 22-38 17-26 66.
LHS (52)
Jake Mosiman 3-8 0-2 8, KJ Pritchard 2-7 1-2 5, Anthony Buffalomeat 5-10 9-10 20, Logan Henrichs 1-5 2-4 4, Bryce Montes de Oca 4-10 0-0 8, Shane Willoughby 0-3 4-6 4, Troy Willoughby 1-1 0-0 2, Anthony Bonner 0-0 0-1 0, Tyrone Jenkins 0-0 0-0 0. Totals 16-44 16-25 52.
ONW 10 14 23 19 — 66
LHS 14 16 12 10 — 52
Three-point goals: ONW 5-12 (Bales 3, Reid, Shields); LHS 3-13 (Mosiman 2, Buffalomeat). Fouled out: None. Turnovers: ONW 13, LHS 8.
Photo Gallery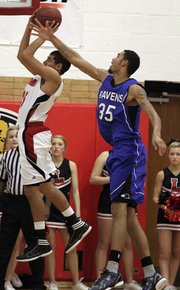 Lawrence High boys basketball vs. Olathe Northwest
Entering Friday night's home game with just one loss, Lawrence High's boys basketball team got served a serious dose of deja vu when they hosted Olathe Northwest.
Much like the game between the Lions and Ravens in December, the rematch featured LHS hanging around and ONW pulling away in the second half. The main difference was the final score, as Northwest took control in the fourth quarter and pulled off a 66-52 road win to remain unbeaten.
The Lions' familiarity with their opponent, coach Mike Lewis said, could have been an advantage for LHS (4-2). But the eerily similar second half proved that Northwest (6-0) still had the horses to handle their Sunflower League foe.
After Lawrence took a 30-24 halftime lead on Jake Mosiman's three-pointer at the second-quarter buzzer, the Ravens' big guns came out blazing in the second half. The third quarter turned into The Shavon Shields Show, as the senior swingman controlled nearly every aspect of the game on offense.
Shields scored 15 of his 28 points in the quarter, highlighted by a steal and a jam and a late three-pointer.
Northwest's other eight points in the third quarter, when they outscored Lawrence 23-12, came from their 6-foot-10 pivot, Willie Cauley, who finished with 12 points.
LHS senior Anthony Buffalomeat, who kept his team in the game and finished with 20 points, said between Shields' ability to take over and Cauley snagging defensive boards late (six of the big man's 12 rebounds came in the fourth quarter), the Lions couldn't keep up.
"That kind of deflates you as a player when they're getting everything," Buffalomeat said. "You're trying, but they're just really tall and they can jump, so it's hard to get the rebound when they're around."
Having seen his team play ONW tight in the first half of a 57-41 loss at the Blue Valley Shootout on Dec. 10, LHS coach Mike Lewis said the Lions expected to give the No. 2-ranked team in Class 6A a game. What he didn't expect was the way Lawrence fell behind late.
"When we got shook there at the end of the third and in the fourth, it got away from us," Lewis said.
Even though LHS was down just five points entering the fourth, the coach said the Lions' confidence sank as shots rimmed out — both at the free-throw line and from the field. Lawrence went 1-for-11 from the floor in the final eight minutes. Its only make came on a Troy Willoughby layup in the waning seconds of the game.
On the night, Lawrence made just 16 of 44 attempts (36 percent), while the Ravens went 22-for-38 (58 percent).
"We missed a few pretty easy shots throughout the game," Lewis said. "That hurt us with momentum."
Plus, Buffalomeat said, the Lions didn't help themselves at the foul line in the fourth, when they went 8-for-14.
"Missed free throws were huge. We needed them, and then they came back and scored," the senior guard said. "That's a big thing we're gonna be working on. You've got to finish it out."
Lewis said the Lions can't get tight when they fall behind late in a game.
"We've got to figure out a way to buckle down and get ourselves back in it," he said.
Lions senior guard Logan Henrichs hit his head when drawing a foul late in the fourth quarter and is not expected to be available when LHS returns to the floor tonight at 5:30 for a home game with Kansas City, Mo., Rockhurst.
Copyright 2017 The Lawrence Journal-World. All rights reserved. This material may not be published, broadcast, rewritten or redistributed. We strive to uphold our values for every story published.