Photo Gallery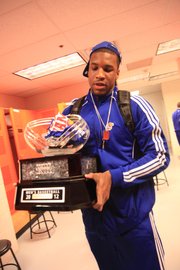 KU vs. Oklahoma State
Press Conferences & Post-Game Interviews
KU coach Bill Self
KU coach Bill Self talks to reporters following the Jayhawks' 70-58 victory over Oklahoma State on Feb. 27, 2012.
Press Conferences & Post-Game Interviews
KU players Tyshawn Taylor and Thomas Robinson
KU players Tyshawn Taylor and Thomas Robinson talk to reporters following the Jayhawks' 70-58 victory over Oklahoma State on Feb. 27, 2012.
Stillwater, Okla. — During almost every timeout of the second half, coach Travis Ford kept telling his players that they had enough time to make a comeback. The score was manageable.
All Oklahoma State had to do was make one run at Kansas University to be right in the game.
In the end, Kansas guard Tyshawn Taylor never let that run happen.
"He would just always make a big shot," Ford said following his team's 70-58 loss to KU on Monday.
A Keiton Page three cut KU's lead to 60-52 with 5:10 remaining before Taylor went on a personal 10-0 run to push KU's advantage to 18.
"We'd make a play, and they'd come right back and make a play," OSU guard Brian Williams said. "We'd hit a three; they'd hit a three. We never could just close that gap to make it a game."
OSU also had problems stopping KU forward Thomas Robinson, who had 17 points and 11 rebounds.
"Give Kansas credit," Ford said. "They have the best junior in the country and one of the best seniors in the country."
Ford sensed that his guys played a bit tight during Page's Senior Night.
The day before in practice, many of Page's teammates had talked about the importance of playing well for Page.
"It almost puts a little too much pressure on you," Ford said.
For example, Page's roommate, Markel Brown, had just seven points on 2-for-9 shooting. It was his lowest output in his last seven games.
Page himself didn't seem to be affected by the emotional night. The Pawnee, Okla., native finished with 29 points on 10-for-19 shooting. He also made seven of 14 threes.
In a pregame ceremony, while being honored as the team's only senior, the 5-foot-9 guard was hoisted on a pair of his teammates' shoulders, much like a victorious Super Bowl coach.
"These guys are crazy, so when I saw them running at me, I didn't know what they were going to do," Page said. "I was just ready for them to put me down before they did something too crazy."
Right before the Cowboys left the locker room, they watched a highlight film showing some of Page's best plays from his freshman year up until this season.
Ford was amazed that at only 5-foot-9, Page was still able to put up high point totals with opposing defenses focusing solely on him.
"It borders on incredible that he keeps doing it," Ford said. "We're riding him."
Ford admitted that he wasn't looking forward to Monday's game, knowing that it would be Page's last at Gallagher-Iba Arena.
In his four years of coaching him, Ford couldn't remember Page complaining once about anything.
"He may not always play perfect," Ford said, "(but) a lot of times, he did."
Copyright 2018 The Lawrence Journal-World. All rights reserved. This material may not be published, broadcast, rewritten or redistributed. We strive to uphold our values for every story published.