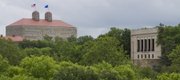 Subscribe to the email edition of Heard on the Hill and we'll deliver you the latest KU news and notes every weekday at noon.
Your daily dose of news, notes and links from around Kansas University.
• With the Big 12 Conference football schedule looking like it might finally be released, that comes as a huge sigh of relief to those planning weddings everywhere.
The New York Times covered this issue over the weekend, just as our fine paper has.
It's not just a matter of hoping that your guests prioritize a wedding ahead of football (though that's not always a sure thing for many people I know), it's also a matter of ensuring that all the hotel rooms in the city aren't booked solid on your big day.
Though TV networks apparently have the schedule, not even the hordes of Heard on the Hill tipsters have seen fit to leak it to the general public yet.
So all those brides-to-be will just have to keep waiting, along with the many other functions that get scheduled around football.
• Here's a reminder of a pretty good program in KU's Center for Community Outreach that some folks may not be aware of.
KU's Music Mentors is a student-run organization that provides free instrumental and vocal lessons to students in elementary through junior high schools. Student musicians provide the lessons.
The types of lessons offered are pretty wide, and include piano, voice, guitar, violin and more.
Though the program is designed for those who do not have the means to acquire music lessons on their own, there are no income requirements, a representative of the group told me.
Anyone can apply, and interested people can email mmentors@ku.edu.
• And finally, just in time for tonight's KU-Kansas State basketball game, here's a polite message from Kansas State head coach Frank Martin.
The coach has apparently noticed some salty language being slipped into a few Kansas State chants directed KU's way.
Here's some more information.
This is not necessarily a big surprise (Though KU, of course, is not immune from chants with nasty language in them, either).
What is surprising, however, is this particular line from the fiery coach in his message to students.
"As I work at completely eliminating profanity from my actions, I ask you to help me by not using chants that contain profanity," he said. "There is no place in education, or representing K-State, for any of us to use profanity."
I'm relatively adept at lip-reading (and it's usually not too hard to decipher what the vein-popping coach is trying to say on the sidelines), and I'll have to watch tonight to see how the coach is doing in his mission.
It may well depend on how well the Jayhawks do in Bramlage Coliseum.
• Whether KU plays football or not, Heard on the Hill will keep chugging away, so you'd better keep submitting your tips to ahyland@ljworld.com.
Copyright 2018 The Lawrence Journal-World. All rights reserved. This material may not be published, broadcast, rewritten or redistributed. We strive to uphold our values for every story published.