Bryce Montes de Oca built the Lawrence High lead, but it was Jake Mosiman that helped deliver the knockout blow.
The two players combined for 37 points, leading LHS to a 72-51 victory over Olathe North on Friday night at LHS gym.
Photo Gallery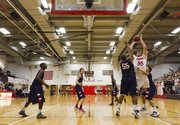 LHS boys vs. Olathe North
"Everybody was dishing really well," Mosiman said, "and we were just finding the open shot."
Most of the shots early were from Montes de Oca, as the 6-foot-7 forward had eight of LHS's first 10 points as the Lions opened a 10-4 lead.
"I had a size advantage, so I just used my advantage," Montes de Oca said. "I was patient and let things come to me and didn't try to force anything."
The sophomore continued his production in the second quarter, scoring eight straight LHS points as the Lions took a 34-26 advantage at halftime.
Through 16 minutes, Montes de Oca was up to 16 points on 7-for-9 shooting.
"It was a nice combination of efforts there where he was doing his job, the guards were getting him the ball and he was finishing," LHS coach Mike Lewis said. "He's pretty hard to stop when he gets position."
When Montes de Oca picked up his third foul less than two minutes into the third quarter, it was Mosiman who emerged for LHS.
The 5-foot-11 junior put in a three-pointer, a runner with a foul and another three during a 10-0 LHS run that pushed the Lions' lead to 47-28.
"The guys have a lot of confidence in him," Lewis said of Mosiman. "It's exciting when he gets in the game. We know he can score."
LHS's ball movement, which included a few crisp assists from KJ Pritchard, helped the team to an efficient night offensively.
The Lions made 59 percent of their field goals (29 of 49) and also 38 percent of their three-pointers (six of 16).
Montes de Oca led LHS, posting a game-high 20 points on 9-for-13 shooting.
"He really worked the defense well," Lewis said. "We passed the ball to him where he needed to catch it, and he finished."
Mosiman contributed 17 points off the bench, going 6-for-9 from the floor and 2-for-3 from three-point range.
Pritchard added 10 points, while Shane Willoughby posted nine points on 4-for-5 shooting.
The Lions also dominated the glass, out-rebounding the Eagles, 37-21.
Lewis said he was happy with his team's effort, especially on the night of Winter Court with a few extra alums in attendance.
"For us to play well ... all the guys are feeling good about it," Lewis said.
Copyright 2018 The Lawrence Journal-World. All rights reserved. This material may not be published, broadcast, rewritten or redistributed. We strive to uphold our values for every story published.