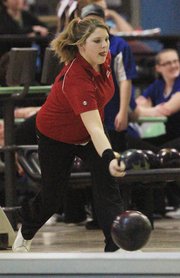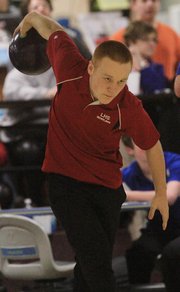 Thursday didn't get off to the greatest start for Lawrence High senior Isaiah Ross.
In the hours leading up to the LHS bowling team's Senior Night quad at Royal Crest Lanes, Ross, the boys' top roller, jammed his thumb. Then, in the sixth frame of his first game, he pulled his arm on a six-two split.
However, that didn't stop Ross from posting the top series score of the event with a 695, which was a personal record.
"You've just got to focus and go," Ross said of bowling with mild ailments.
Ross and fellow seniors Pace Leggins, Anthony Rosen and Riley Gentry, along with juniors Austin Bennett and Connor Daniels, helped LHS place second at the home quad with a score of 2,524, which wasn't enough to topple Olathe North's 2,622.
Lawrence's girls, meanwhile, also placed second behind O-North. LHS seniors Darinka Delatorre and Brooke Thornton got a boost from sophomore Kierstan Warren's 593 — the second-best score of the afternoon, behind only Olathe North's Kacie Hixon, who rolled a 606. The Lions, who also benefitted from junior Rebecca McNemee's 581, finished 124 behind O-North.
LHS coach Paula Bastemeyer would have loved to see the Lions win their home quad on Senior Night, but she was pleased to see the team's six varsity seniors have some success.
"The seniors have been fun to work with this year," she said.
Even though Thornton and Delatorre have not been the girls' top varsity bowlers, the coach said they've been "impactful." Delatorre's 465 series at the quad was a personal record.
Warren didn't have her best day, but Bastemeyer praised her for bowling with consistency. Warren said she and her teammates — Amy Harvey and Zoe Reed also bowled for LHS Thursday — try to zone out everything else going on around them, even if that means waiting until the end of the meet to find out how they stacked up against their opponents.
"Our team really doesn't care about others (teams) while we're bowling," Warren said. "We just focus on ourselves, and that's good, because everyone's scores count."
The Lawrence boys got off to a hot start thanks in large part to their seniors. Ross, Gentry and Leggins all were above 200 in the first game, and Rosen just missed joining them with a 199.
Ross rolled above 200 in all three games of a series for the first time on Senior Night.
Said Bastemeyer: "He did a terrific job. He's really come a long way this year."
This has been the first season of varsity bowling for Ross, and his last home event had a nice ending.
"I got to win on Senior Night," he said. "It feels great."
On Tuesday, the Lions will be back at Royal Crest Lanes for a dual with Free State on the Firebirds' Senior Night.
Copyright 2018 The Lawrence Journal-World. All rights reserved. This material may not be published, broadcast, rewritten or redistributed. We strive to uphold our values for every story published.