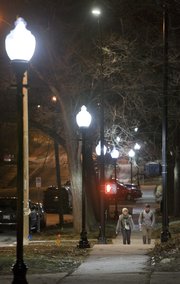 Those involved in planning a lighted pathway on 12th Street between the downtown area and the Kansas University campus hope the improvements will make the area safer for students walking late at night.
The project has several components. An improved sidewalk on 12th Street runs from Louisiana to Vermont streets and through South Park to Massachusetts Street, said Mark Thiel, assistant director of Public Works for the city.
Along the path are Victorian-style light posts with LED lights triggered by a motion sensor. The lights have high and low illuminations, Thiel said, so at 3 a.m. or 4 a.m., when few people are walking by, the lights are dimmed, but they become brighter when the motion sensor is triggered.
"It's not so much that lighted pathways will magically make the criminal activity disappear," he said. "If we could get the majority of students using one centralized pathway from campus to downtown, just the sheer numbers would increase the safety and deter criminal activity."
New pedestrian traffic signals are in place at 12th and Tennessee and 12th and Kentucky streets.
The project's budget was $307,000, Thiel said — including $120,000 from KU student fees, $137,000 from the federal Community Development Block Grant program and $50,000 from city funds. Though the project still isn't fully complete, and so the complete cost isn't known, Thiel said he anticipated the cost should come in "significantly under" the budgeted figure.
Still to be completed, he said, are concrete brick crosswalks at Kentucky, Tennessee and Ohio streets.
Elise Higgins is a 2010 graduate of KU who helped come up with the idea for the lighted pathway when she was working as the community affairs director for KU's Student Senate.
Higgins, who lives in Lawrence, said she was encouraged to see the projects she helped start become operational during the last two weeks.
"I'm really pleased that it's happening," she said.
She said she hoped that the pathway would create some safety both because of the lights and because of the numbers of students she hoped would use it.
Copyright 2018 The Lawrence Journal-World. All rights reserved. This material may not be published, broadcast, rewritten or redistributed. We strive to uphold our values for every story published.