Photo Gallery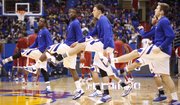 KU vs. Oklahoma
Press Conferences & Post-Game Interviews
KU coach Bill Self
Kansas coach Bill Self talks to reporters following the Jayhawks' 84-62 victory over Oklahoma on Feb. 1, 2012.
Former Missouri State and Saint Louis coach Charlie Spoonhour died Wednesday at the age of 72.
"He was a great person, a great coach and a great guy," Kansas University coach Bill Self said. "He was as well-liked as anybody in the business. He had a dynamic personality. Nobody could hold court in a room better than him. Coaches would gather around to listen to him talk. What a great guy ... he will be missed."
Two Jayhawks honored: The McDonald's All-America Game committee has named KU's Danny Manning and Paul Pierce two of the 35 greatest participants in the annual high school all-star game. The team was named in conjunction of this year's 35th-annual McDonald's Game, set for March 28 at Chicago's United Center. Game organizers did not rank the 35, though ESPN did.
Manning was tapped No. 13 overall, while Pierce was No. 23. Kevin Garnett was No. 1, followed by LeBron James, Alonzo Mourning, Magic Johnson, Clark Kellogg, Ralph Sampson, Jason Kidd, Patrick Ewing, Isaih Thomas, Shaquille O'Neal, Kevin Durant, James Worthy, Manning, Glenn Robinson, Dwight Howard, Dominique Wilkins, Carmelo Anthony, Larry Johnson, Jerry Stackhouse, Derrick Rose, Kobe Bryant, Michael Jordan, Pierce, Grant Hill and Vince Carter. ESPN ranked the players based only on their high school accomplishments.
The anthem: KU's students did not sing "Home of the Chiefs" or perform the tomahawk chop at the end of the national anthem Wednesday. The KU Youth Chorus, a collection of youngsters, performed the anthem. "Home of the Brave" flashed on the videoboard as the anthem concluded. Self recently told the Journal-World he wished the students would sing the correct words to the anthem.
Stats, facts: KU extended its homecourt win streak to 18 games. ... KU has won nine in a row versus OU. ... KU's 53 second-half points against the Sooners marked the fourth time the Jayhawks scored 50 points or more in a half this season. ... KU made its first 10 field-goal attempts of the second half. KU shot 71.4 percent in the second half (20-of-28), which was its highest single-half percentage of the season. It was the highest percentage in a half since KU shot 79.3 percent in the first half at Baylor last season. ... Oklahoma's 75 percent three-point shooting (3-for-4) was the highest in a conference game against KU since the 1988-89 season. It was the best three-point field goal percentage since UMass shot 77.8 percent (7-for-9) on Dec. 10, 1997. .. OU's four three-point field goal attempts tied for the fewest three-point attempts in a conference game (Missouri, 1991). It was the fewest overall by a Kansas opponent since Wichita State attempted two on Jan. 8, 1992.
Copyright 2018 The Lawrence Journal-World. All rights reserved. This material may not be published, broadcast, rewritten or redistributed. We strive to uphold our values for every story published.