Leavenworth — For a group coming off a prolonged break in its schedule, Lawrence High's boys basketball team sure didn't have much trouble with a top-10 opponent on the road Tuesday night.
The Lions toppled No. 5 Leavenworth, 46-38, in their first game since Jan. 21.
The catalyst in the road victory was Lawrence's 2-3 zone, which kept the Pioneers (10-3) camped out around the three-point line most of the night and forced the home team to settle for contested three-pointers. By the end of the night, Leavenworth had hoisted 23 from beyond the arc and hit just five (22 percent).
While Lawrence coach Mike Lewis credited Pioneers junior guard Mike Wiggins for knocking down four three-point bombs, he said the Lions' guards rotated aggressively throughout the game and made the defense effective.
Photo Gallery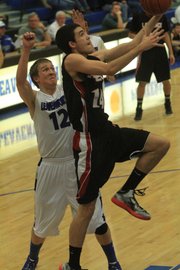 LHS boys vs. Leavenworth
"As long as there's just one (opposing player) hitting lights-out and not two or three, then you're OK," Lewis said with a grin.
The rest of the Pioneers combined to go 1-for-14 from long range, and Lawrence senior KJ Pritchard said he was proud of his team's intensity on the defensive end of the floor.
"We contested every shot they put up," Pritchard said. "Nothing was easy for them."
The Lawrence zone proved significantly effective inside, with the return of starting sophomore center Bryce Montes de Oca, who had missed the Lions' previous three games. Pritchard said the 6-foot-7 pivot made it rough on Leavenworth's top slasher, Grant Greenberg, who didn't get much going offensively before the fourth quarter.
"He's a huge presence on the inside," Pritchard said of Montes de Oca, who blocked two shots and grabbed five rebounds to go with 11 points. "It plugs everything up."
Lawrence (8-5) had its defense to thank for a nine-point lead entering the fourth quarter. After the Lions gave up 15 points in the first quarter, they held the Pioneers to 4-for-20 shooting in the second and third quarters combined.
That cushion — Lawrence led 33-24 after three quarters — came in handy in the final eight minutes. The Lions were trying to protect their lead but turned the ball over five times and made just one of their five shot attempts in the fourth. The one field goal came with just less than a minute to play, when junior guard Shane Willoughby winged a pass over Leavenworth's full-court press and Pritchard went in for an uncontested dunk that gave Lawrence a 41-35 advantage with 57 seconds remaining.
The Lions might have been in trouble had they not been so clutch at the foul line in the fourth. Their co-scoring leaders on the night, Pritchard and Anthony Buffalomeat (14 points apiece), combined to hit 11 of their 13 free throws in the final period, with Buffalomeat hitting all six of his tries.
Considering Leavenworth's late surge, Pritchard said the Lions' finish said a lot about the team.
"We're really resilient," Pritchard said. "They cut it down to three (with less than five minutes to play) and we didn't drop our heads. We took a timeout, we regrouped."
Lawrence next plays at 7 p.m. Friday at Shawnee Mission East.
Copyright 2018 The Lawrence Journal-World. All rights reserved. This material may not be published, broadcast, rewritten or redistributed. We strive to uphold our values for every story published.