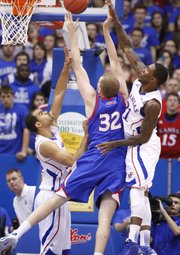 Guys who go against Kansas University freshman Perry Ellis every day — his frontcourt teammates — say the power forward's double-double against American University is a sign of huge things to come.
"Perry is getting more confident every day," said KU senior center Jeff Withey, impressed with the progress of Ellis, a 6-foot-8, 225-pound McDonald's All-American out of Wichita Heights.
Ellis scored 11 points and grabbed 10 rebounds in Saturday's 89-57 rout of the Eagles, becoming the first KU freshman since Thomas Robinson to record a double-double. Sacramento Kings rookie Robinson had 15 points and 10 rebounds against Alcorn State in 2009.
"He's not hesitating when he catches it. When he catches it, he's making moves, which we need him to do," Withey added. "He's getting more experience under his belt. That makes up for a lot."
Noted junior forward Justin Wesley: "Perry is a natural scorer, a great scorer. There are times you give him the ball (in practice), he scores a bucket every time."
Ellis on Saturday scored in double figures for the first time since a 12-point outing against Washington State on Nov. 19, 2012, in Kansas City's Sprint Center. He had a career-high 15 points in the season opener against SE Missouri State.
"He thinks too much. He wants to please everybody. He doesn't want to mess up," noted Wesley, who said he has spoken a lot with Ellis and red-shirt freshman forward Jamari Traylor about their still-developing games. "You kind of have to think next play.
"Once he gets past that (thinking too much), I think he'll take off," Wesley added of Ellis.
For the year, Ellis has averaged 6.1 points and 3.7 rebounds in 15.0 minutes per game. He has hit 28 of 56 floor shots for 50 percent. He has made 16 of 23 free throws for 69.6 percent.
What does he need to work on most?
"Aggressiveness," Ellis said. "I need to get in the rhythm of the game and just get better. I have to continue working hard at practice and bringing energy. Practice is the key."
Ellis says the Jayhawks (11-1), who will meet Temple (10-2) at 3:30 p.m. Sunday, in Allen Fieldhouse, have been working hard on defense.
"I can see in practice, that's where coach is really pushing us to get better ... on the defensive end," Ellis said. "I can see the push he's trying to get us to do on that side of the court. I see a lot of confidence building, guys working and getting better."
KU coach Bill Self praised Ellis in introducing him to KU's holiday campers last week: "He is the most heralded recruit ever from the state of Kansas, all-time leading scorer in Wichita. He can score. He has a chance to be great."
Ellis on point guards Elijah Johnson and Naadir Tharpe: "They are real vocal on the court both with the bigs and littles. That's something that helps me out, helps everybody out, really. They know where I like the ball. That helps me, too."
Ellis on 7-footer Withey: "I can see how Jeff would be intimidating (against a penetrating guard). It's good to have him on our team."
Wesley contact coming: KU junior reserve Wesley, who broke the little finger on his left hand on Dec. 13, is expected to return to contact drills later this week. It's possible he could play in the Temple game. Temple improved to 10-2 on Monday by defeating Bowling Green, 75-57, in Philadelphia. It marked the 1,800th win in school history. KU has 2,081 wins.
Ben dances, Jayhawks follow: Rio Adams posted a funny clip on his Facebook page of Ben McLemore and the Jayhawks dancing in the locker room. The clip is at http://i.minus.com/iynCsXZR3nUrq.gif
ESPN's Andy Katz in his Monday musings: "Happy 50th birthday to Bill Self. I'm not sure there is a more perfect coach for Kansas. He will go down as one of the top coaches of his generation when he's done."
Copyright 2018 The Lawrence Journal-World. All rights reserved. This material may not be published, broadcast, rewritten or redistributed. We strive to uphold our values for every story published.