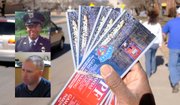 The state agency that licenses law enforcement officers will not be taking disciplinary action against two former Lawrence police officers involved in a ticket-fixing scandal.
Earlier this year, the Kansas Commission on Peace Officers' Standards and Training, or KSCPOST, received "notice of termination" forms from the Lawrence Police Department for former Sgts. Mike Monroe and Matt Sarna.
Such forms, required when an officer in the state leaves a department, prompted the commission to investigate the cases. The investigation could have led to license revocation, barring Monroe and Sarna from working in Kansas law enforcement.
But after an investigation, no action was taken and the case was closed, according to a spokesman for KSCPOST. The agency, however, does not comment further in such cases.
The KSCPOST termination forms, obtained through a Journal-World open records request, state that Monroe was "terminated" on March 22, while Sarna left the department on Feb. 24 after an "involuntary negotiated resignation," which means the officer "was offered the opportunity to resign to avoid potential disciplinary or adverse employment of legal action."
The Journal-World was unable to reach Monroe or Sarna for comment.
Monroe had previously declined comment about the KSCPOST investigation and said he was still going through the city's grievance procedure related to his firing. City of Lawrence manager David Corliss said there were no updates to release about Monroe's grievance case.
Copyright 2017 The Lawrence Journal-World. All rights reserved. This material may not be published, broadcast, rewritten or redistributed. We strive to uphold our values for every story published.