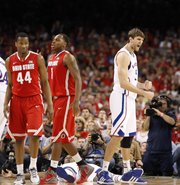 Columbus, Ohio — Revenge figures to be on the minds of Ohio State's basketball players, coaches and fans entering today's 3 p.m. nonconference clash against Kansas University in 19,049-seat Value City Arena.
Remember, the Jayhawks (9-1) of the Big 12 Conference, knocked off the Buckeyes (9-1) of the Big Ten twice a year ago — 78-67 on Dec. 10, 2011, in Allen Fieldhouse, and, more importantly, 64-62, in a Final Four semifinal on March 31 in New Orleans.
"I'm sure they'll be ready," said KU coach Bill Self, whose Jayhawks enter as the No. 9-ranked team in the country; OSU is No. 7. "I don't know if our fans remember how ready we were playing Georgia Tech after they knocked us out of the Final Four. It's going to be a fabulous atmosphere."
KU fans should have no trouble recalling one of the wildest home games in the Self era — a 70-68 overtime victory over Georgia Tech's Yellow Jackets on Jan. 1, 2005. It was a game that avenged a 79-71 Elite Eight loss to Tech in 2003-04, Self's first season at KU.
"You put yourself in games like this to find out more about your team," Self said. "Other than Michigan State, we have not had a close game."
The Jayhawks fell to the Spartans of the Big Ten, 67-64, on Nov. 13 on a neutral Georgia Dome floor in Atlanta.
"We've not had to make plays in the last three to four minutes to determine the outcome of the game," Self said.
KU has won eight straight games, with only the Oregon State game (84-78, Nov. 30) a single-figure victory margin.
Kansas has won its last three games — over Colorado, Belmont and Richmond — by 36, 29 and 28 points, respectively.
"It will be good for us to see how tight our huddle is, see if we can focus, spend energy in the building in our favor and find out how tough we are. I'm looking forward to it," Self said.
KU faces a Buckeye team that has defeated Albany, Rhode Island, Washington, UMKC, Northern Kentucky, Long Beach State, Savannah State, UNC Asheville and Winthrop. Its only loss is a 73-68 decision to Duke on Nov. 28 in Durham, N.C.
OSU coach Thad Matta sees this match-up every bit as tough as the one against top-ranked Duke.
"I think just from what I've seen of Kansas in their last few games ... they are probably playing as well as anybody in the country right now," Matta said. "They are high-powered, explosive. They are a lot like we want to be. Their defense generates a lot of their offense, and they are very explosive in that regard."
The Buckeyes have two of the best players in the country — one known for offense and one for defense.
Deshaun Thomas, a 6-foot-7 junior from Ft. Wayne, Ind., averages a team-leading 20.4 points (45.9 percent shooting, 40.9 percent from three) and 6.9 rebounds a game. Aaron Craft, a 6-2 junior from Findlay, Ohio, averages 9.1 points with 48 assists against just 13 turnovers in 10 games.
"Aaron wants to do the right thing from the standpoint (that) each game will be a little bit different, if we need him to shoot more or pass more," Matta said of the floor general who scored 11 points (4-of-11 shooting) with three assists and two turnovers in the Final Four loss to KU and 11 points (again 4-of-11 shooting) with six assists and three turnovers in the loss in Allen.
"Definitely, he is national defender of the year," Matta said earlier in the week on Tim Brando's national radio show. "That's already mailed in. I can guarantee you that one. I have got some great defenders, and none of them ever get credit for it. I'm campaigning for Aaron right now."
KU's Elijah Johnson will have to be alert going against Craft, who had just three steals in the two games versus KU last year.
"The key is you can't dance with him. If you are aggressive and get up next to him and you try to back out of it, that's when he goes after it," Self said.
"Tyshawn had a good handle last year, and Craft picked him twice just by Tyshawn relaxing a couple times and not being aggressive. You've got to be in attack mode against him. If he feels you are a sideline-to-sideline dribbler, then I think he is at his best. We've got to try to get our shoulders past him, which is very difficult to do," Self added.
Thomas enters as a first-team preseason AP All-American.
"We are looking forward to the game. It will be a big game for us, but we can't have the start we had for this game," Thomas told the Columbus Dispatch after Tuesday's 65-55 home victory over Winthrop. OSU led just 31-30 at halftime.
"Thomas is a great scorer. Craft is a very aggressive ball defender. We've got to go out there and play," KU freshman guard Ben McLemore said.
Thomas is joined by one other double-digit scorer — 6-4 Lenzelle Smith, Jr., who averages 11.5 points and 5.2 boards a game.
"They can shoot the ball. They have a lot of veterans. Aaron Craft is very good. Thomas can shoot the ball," KU senior Jeff Withey said of the Buckeyes, who average 78.6 points a game and allow 57.2. KU averages 77.8 points and allows 58.5.
"They have role players who play their role, and it helps them win," Withey added. "They are a tough team, physical. They play that Big Ten style. They try to bully you. They do all that really well. We've got to come ready, and hopefully we'll put up a good fight and hopefully win."
As far as handling a hostile atmosphere, an arena with revenge in the air, Withey said: "We always say it's fun. There's nothing better than somebody yelling at you and kind of shutting them up. Just talking to Ben and Perry (Ellis) and the younger guys, (we'll say), 'They are going to be yelling at you, cursing at you. As soon as you quiet the crowd, there is no better feeling so just go out and play hard.'"
Copyright 2018 The Lawrence Journal-World. All rights reserved. This material may not be published, broadcast, rewritten or redistributed. We strive to uphold our values for every story published.