Photo Gallery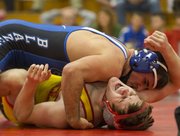 Lawrence High wrestling vs. Gardner-Edgerton
Lawrence High's wrestling team might have entered its Wednesday night home dual as the No.4-ranked team in Class 6A, but the Lions only had a skeleton crew available against No. 7 Gardner-Edgerton.
Its lineup depleted by injuries, LHS managed just two head-to-head victories against the Trailblazers and fell, 53-18.
The list of unavailable varsity regulars included senior 132-pounder Hunter Haralson (ranked No. 1 in 6A), senior 138-pounder Caden Lynch (No. 4 in 6A), junior Ryan Bellinger (152) and sophomore Tristan Star (113).
Competing with a number of wrestlers who primarily had junior-varsity experience, Lawrence lost its first seven matches — including at 126, where junior Garret Girard (No. 4 in 6A at 120) lost 2-0 to Gardner's Kiefer Price. The first Lion to get his hand raised was junior Isaias Rojo, and that was because GEHS had an open slot at 152.
Senior Andrew Denning (160) lost 12-2 to Dustin Williams (No. 1 in 6A) and had a scare when he hurt his left ankle in the second period. Denning (No. 3 in 6A) finished the match but moved more slowly as a result of the injury.
Visibly disgusted at the end of a difficult dual loss, LHS coach Pat Naughton said the Lions must find a way to navigate this rough stretch until some of their leaders are able to return in January.
"That's the name of the game. You always fear about the injuries and other things going on that affect your lineup," Naughton said. "The train doesn't stop just because we've got some guys out of the lineup."
Finally, in the ninth contested match of the night, freshman Alan Clothier (No. 2) scored a victory for LHS by pinning Anthony Cisneros midway through the second period.
The Lions' only other victory came in the dual's final match. After watching things go so poorly all evening, junior heavyweight Alex Jones admitted he got a little psyched out when he saw Gardner's 220-pounder, Justin Willard, would move into the 285 slot. Jones knew the lighter wrestler would have a more skilled approach than his typical opponents. But after building a 4-1 lead early in the second period, Jones saw his chance in a split-second.
"I didn't really realize (Jones could be pinned) until I had him on his back. I had all of my weight on his shoulders," Jones recalled.
With that, Jones won via pinfall.
"In the end, my aggressiveness and the fact that I just went all-out is what won me the match," Jones said of overcoming his initial nerves. "I wasn't expecting a pin, though. That was actually surprising."
As difficult as the dual was to endure, the Lions won't get any kind of break with No. 1 Garden City visiting LHS at 7 p.m. today.
"These are gonna be a tough two days for us. It's really gonna determine what they're made of," Naughton said. "It's really gonna test our toughness, mentally and physically."
Copyright 2018 The Lawrence Journal-World. All rights reserved. This material may not be published, broadcast, rewritten or redistributed. We strive to uphold our values for every story published.