Photo Gallery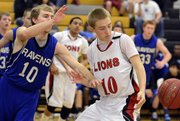 LHS boys vs. Olathe Northwest in Blue Valley
Photos from the Dec. 8, 2012, boys basketball game between Lawrence High and Olathe Northwest in the Blue Valley Shootout
Stilwell — On an afternoon when far more shots rimmed out than fell through the hoop, Lawrence High's boys basketball team didn't buckle under late-game pressure against Olathe Northwest on Saturday.
A four-point play from senior guard Jake Mosiman broke a tie with 1:19 left, and the Lions held on for a 47-44 victory in the fifth-place game at the Blue Valley Shootout.
LHS coach Mike Lewis had just called a timeout, and after the Lions moved the ball around the perimeter, sophomore guard Anthony Bonner drove to force the Ravens' defense to collapse. Bonner kicked the ball out to freshman point guard Justin Roberts, who immediately swung the ball to the right wing for Mosiman.
Though the senior shooting guard had missed his previous four attempts from downtown, he drained the most important shot of the game, drew a foul and made his free throw to give Lawrence a 43-39 advantage.
"His timing was right on cue," Lewis said.
ONW, however, answered with a three-point play in the paint from junior forward Morgan Funk with 1:10 remaining, cutting the LHS lead to one.
After Lawrence (3-1) ate clock by moving the ball, the Ravens fouled Roberts with 36 seconds left. With LHS not yet in the double bonus, Roberts missed the front end of a one-and-one. Fortunately for the Lions, backup junior guard Connor Henrichs chased down the offensive rebound and made both of his free-throw tries, stretching Lawrence's lead to 45-42 with 32 seconds left.
After crafty ONW senior guard Trey Bales — who scored a game-high 16 points by hitting 11 of 12 free throws — drove to the lane and drew a foul, he hit two freebies with 17 seconds left, again making it a one-point LHS lead.
That's when Roberts (12 points) got another chance at the charity stripe and hit both of his attempts with 15 seconds on the clock.
Said Roberts: "I just knew that after I missed that one, I just couldn't let it happen again. I couldn't let my team down. And Connor made two big free throws, too, so that was great for us."
Bales, who struggled from the floor against Lawrence's defense and made just two of 15 field goals, missed a three-pointer with Henrichs defending him in the final seconds. Ravens junior guard Easton Koch grabbed the offensive rebound and missed a long jumper at the buzzer from inside the arc.
Mosiman, who led LHS with 15 points, said coming through in the clutch would be big for his team going forward.
"We did it for one reason. We won the game for Isaiah (Zay Boldridge)," Mosiman said of Boldridge, an LHS junior who Lewis said has been at Kansas University Medical Center for the past few days dealing with an undisclosed medical issue. " I think that's where it all came from. We were fighting for something. That's how we won."
Lawrence struggled from the field throughout the win and made 15 of its 41 attempts (37 percent). ONW actually fared much worse, going 11-for-42 (26 percent). But the Ravens stayed in the game by drawing fouls inside against Lawrence's five-guard lineup.
In the third quarter, Northwest's proficiency forced Lewis to go with two backup forwards, Sterling Fuller and Jacob Seratte. The big men helped cut down the Ravens' easy post-ups inside, and each grabbed key defensive rebounds down the stretch.
LHS might have been in more trouble in the fourth had sophomore guard Bonner not scored six of his team's eight points in the third quarter, which ended with him quickly slinging a buzzer-beating jumper from the left wing that gave his team a 33-31 lead entering the final quarter.
The Lions hit just three of their 13 three-point tries, but Roberts said the perimeter-oriented team found a way to win.
"We just stayed strong," he said. "We played well on the defensive end and at the end we just held on."
Lawrence will play host to Free State on Friday.
Copyright 2018 The Lawrence Journal-World. All rights reserved. This material may not be published, broadcast, rewritten or redistributed. We strive to uphold our values for every story published.