Photo Gallery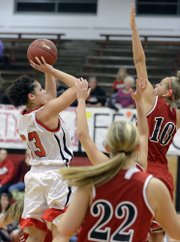 LHS girls basketball opener
Lawrence High girls basketball opens against Emporia
Just when it looked as if Lawrence High's girls basketball team would open its season with a double-digit home loss Friday night, the Lions found a new level of energy in the final minute-plus against Emporia.
But even a flurry of forcing EHS turnovers in the back court and following those with last-minute buckets couldn't get Lawrence past the Spartans, who held on for a 43-42 victory.
The Lions seemingly had no chance when Emporia's lead grew to 13 with just more than two minutes remaining. Then junior forward Kionna Coleman, who finished with game highs of 24 points and 12 rebounds, did what she had done all night, scoring a couple of baskets inside to cut into the EHS lead.
Coleman drew a foul, and EHS (1-0) was hit with a technical foul with 1:19 left, but Lawrence (0-1) failed to capitalize with the clock stopped. Coleman missed both of her free throws, senior guard Anna Wright made one of two, and Emporia, led 40-32.
However, Lawrence still had possession after the technical and seldom-used junior guard Alethia McKinney knocked down a jumper on her only shot attempt of the game to cut the Lions' deficit to six with 1:05 to go.
EHS junior Kayna Hastings hit a pair of free throws a few seconds later, but Wright (eight points) answered with a jumper to make it 42-36.
After a Raegan Sanchez free throw gave Emporia its final point of the game, what followed in the final minute was like something out of a terribly unbelievable sports movie — save the Lions pulling out a victory. The Spartans turned the ball over three straight times, and LHS scored six points off those turnovers, with two baskets from Coleman and a left-side baseline jumper by Wright.
Coleman's final field goal in the paint with just six seconds left made it a one-point game, but Emporia got the ball in bounds safely and avoided being fouled, allowing the game clock to expire.
Hearing that final buzzer after getting within a point, Coleman said, felt frustrating. But the junior forward tired to focus on the positive.
"I thought we played really well," she said.
LHS coach Nick Wood said the Lions didn't have that kind of fight in them a season ago.
"We literally battled to the last second, and unfortunately we just ran out of time," he said.
After what would have been a miraculous comeback fell short, Wood pointed to the Lions' struggles earlier in the game. Those far outweighed their out-of-nowhere surge. LHS went 2-for-11 in the first quarter and trailed 13-6. Yet, EHS only led 22-15 at halftime after Coleman scored all nine of her team's second-quarter points.
The Lions' shooting woes continued in the third quarter, when sophomore guard Jolana Shield's three-pointer less than four minutes into the second half proved to be their only field goal of the quarter — LHS shot 1-for-13.
"It hurts, and it's no fun losing for sure, but we put ourselves in that spot," Wood said.
Lawrence travels to Junction City on Tuesday.
Copyright 2018 The Lawrence Journal-World. All rights reserved. This material may not be published, broadcast, rewritten or redistributed. We strive to uphold our values for every story published.