Photo Gallery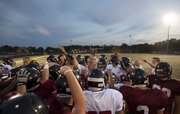 LHS Fall Sports Jamboree
Halfway through the preseason practice schedule, coach Dirk Wedd has witnessed some sizable developments for his Lawrence High football team.
"We had some big question marks on the offensive line," Wedd said, "and we're finding more and more kids every day."
The coaching staff knew coming into the fall that it had about 10 players who could potentially contribute at the line of scrimmage.
But except for senior Kharon Brown, Wedd said, no one had proven himself dependable.
Since the start of practice, however, Wedd said junior linemen Kyle Wittman and Alex Jones have turned some heads.
"They've grown up a lot," Wedd said. "But they had a really good summer in the weight room, so you could see that coming. They're both strong and got quick feet."
Senior LHS running back Tyrone Jenkins, who relies on the O-line to create space for him, has been thrilled to see different linemen stepping up into the rotation and performing well.
"That's a very important role," Jenkins said, noting Jones, Wittman and Matthew Weiss have gained the respect of their teammates.
Defensively, the Lions have discovered helpful surprises. Wedd said senior Hunter Haralson, who wasn't on the roster last season, came out of nowhere.
"He has just lit up everyone at linebacker," Wedd shared. "He makes plays. He doesn't weigh enough, and he's not tall enough, but he's just an unbelievable competitor."
Senior outside linebacker Kieran Severa, the coach added, has improved the defense, too.
Junior linebacker Drew Green likes the unity the Lions have shown up and down the roster.
"For the most part, I see people flying around and working hard," Green said. "No one is satisfied at all right now."
As one might expect, Wedd is probably the least satisfied.
"I don't think there's a high school coach in the state that's happy with where they are right now," Wedd said. "We've got a ways to go."
Copyright 2018 The Lawrence Journal-World. All rights reserved. This material may not be published, broadcast, rewritten or redistributed. We strive to uphold our values for every story published.