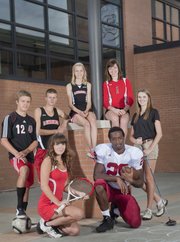 For some, the regular season is just hours away. Other Lawrence High athletes won't begin for a few days or a week or more.
None can wait, though, for the official start of fall sports.
Here's a look at each LHS program as the teams embark on their seasons.
Cross country
Coach Brian Anderson hopes Lawrence's cross country teams will have a successful fall after a number of runners attended the University of Wisconsin cross country camp in Madison, Wis., this summer.
Anderson said the girls who went came back excited, and that has spread throughout the team. The key returning girls are Grace Morgan, Emily McEntire, Leah Gabler, Malory McFall, Laura Neilsen, Riley Shook and Caitlin Lewis. Newcomers Alex Carlson, Aimee Neilsen and Claire Sanner, the coach added, could make an impact, too.
The top returning boys are Gavin Fischer, Chester Lewis, Ivan Davidson, Adam Edmonds, Thomas Ezell, Philip Gabler, Keegan Matheis, Tim Schraad and Eddie Wilson. Nick Benton and Andy Freeman are new.
Anderson said the boys will be rebuilding while the girls are experienced.
"It's just like last year and every other year," he said, "the big thing is keeping them healthy."
The LHS season starts Sept. 1 at Manhattan.
Football
After his football team managed a 6-4 season and a playoff berth in 2011, Lawrence coach Dirk Wedd has plenty of reasons to be optimistic about this fall.
Offensively, the Lions get All-Sunflower League quarterback Brad Strauss back for his senior season. He'll have two wide receivers — Erick Mayo and Drake Hofer —who had 80 catches between them last year. Running-back options for LHS include Tyrone Jenkins, Asaph Jewsome, Drew Green and Jordan Brown.
Still, Wedd is even more excited about the defensive side of the ball, where Lawrence returns eight starters. Linemen Kharon Brown and Josh Seybert and corner Will Thompson are among the team's key players.
Wedd thinks some less-experienced Lions will produce, too. Linemen Arthur Hall, Nick Long, Kyle Wittman and Alex Jones, and receivers Kieran Severa and Isaiah Boldridge could help the cause.
"We need to improve each and every day," the coach said, "and find a way to beat Shawnee Mission West (Aug. 31 at LHS)."
Girls golf
As new girls golf coach Kristen Samp begins her first fall with the Lions, she is happy to have five golfers with state experience.
Attie Pennybaker, Anna Wright, Abigail Schmidtberger, Quillen Eichhorn and Campbell Drake all played for LHS at the 2011 Class 6A state tournament, where the Lions finished ninth. Samp said Lawrence can get back to state and do better this time around.
"I know several of the team members have been working hard on their games this summer and played in several tournaments," Samp said, adding that it will take a six-player effort for the Lions to reach their full potential.
Samp thinks the golfers will be more focused and driven because of their experience. And with Samp's background — she played professionally for 11 years and serves as the director of instruction at Lawrence Country Club — the Lions know to expect challenging, structured practices.
The season begins at 3 p.m. today at Lake Shawnee Golf Course in Topeka.
Gymnastics
Last year, Lawrence's gymnastics team finished 11 spots behind 6A state champion Free State, the program with which LHS trains and shares a coach. But that hasn't undermined the Lions' excitement.
First-year coach Jessica McMurray said returning gymnasts such as Cambry Lynch, Lindsey Fangman and Allison Williams are among the 10 competing for the team's top spots, and all have been revamping routines to get comfortable with higher start values in various events.
"They're working on it and expecting better things," the new coach said.
Both Lynch and Fangman have state experience in the vault, uneven parallel bars, balance beam and floor exercise. Williams scored the highest among LHS gymnasts in the balance beam at state last season.
McMurray hopes the Lions will catch up with Free State this fall.
"It's difficult having a coach with two teams and sharing the limelight with Free State," she admitted.
The LHS season begins Sept. 6 at Shawnee Mission East.
Boys soccer
In 2011, coach Mike Murphy's Lawrence boys soccer team got hot at the right time and made it all the way to the state quarterfinals before getting toppled by Olathe South — the state runner-up.
Now in his third season leading LHS, Murphy expects the Lions to keep improving.
Lawrence has nine returning players with starting experience. Forward Robert Lyan, midfielders Justin Riley, Johannes Reiber, Gavin Fischer and Conner Murphy, and defenders Connor Henrichs, Dalen Reed, Parker Davies and Bray Kelley are all back for LHS.
"We feel good about this season," Murphy said, "because of the experience and talent on our roster."
Plus, the coach thinks forward Luke Matthews and goalkeeper Jeff Mekus will impact the lineup.
The Lions finished 8-8-3 last season, but 2012 could be better.
"We're gonna have a good team this year," Murphy said.
The Lions open at home at 7 p.m. Friday against Manhattan.
Girls tennis
Now that Lawrence girls tennis coach Chris Marshall is entering his second season with the program, he anticipates a more comfortable fall.
"Coaches and players now know each other better," Marshall said, "and communication seems much better this year."
The Lions went 5-6-3 in head-to-head competition in 2011 and finished fourth at their regional. Their key returning players are seniors Abby Gillam and Lily Abromeit and juniors Brooke Braman and Zoe Schneider. Marshall said newcomer Whitney Simons should make LHS better, too.
"We have a deep squad with a lot of players with similar skills," the coach said, "to push each other and better each other's game."
It could all add up to a winning fall for LHS.
"The biggest challenge this year," Marshall said, "is to find good, consistent play to replace the state qualifiers we lost from last season."
The Lions' schedule begins Thursday at Leavenworth.
Volleyball
Entering her sixth year as Lawrence volleyball coach, Stephanie Magnuson is looking to duplicate some of the program's past success.
LHS went to state in 2008 and 2009, and this year's group of Lions has the goal of getting back there.
"The competition within the Sunflower League is gonna be stiff, so we have to focus on that first before we can get to state," Magnuson stressed.
But Lawrence does have five key returning players back from last season's 22-22 team: middle hitter Caitlin Broadwell, outside hitter Monica Howard, setter Brea May, defensive specialist/setter Alexis Mountain and libero Zoe Reed.
Lawrence's biggest strength could be its all-around skill level.
"Each one of them can be counted to do any facet of the game at any time," Magnuson said.
Varsity newcomers Sami Buffalomeat, Jessica Lemus and Savana Sharp also are expected to help LHS, which opens Aug. 28 at Blue Valley Northwest.
Copyright 2018 The Lawrence Journal-World. All rights reserved. This material may not be published, broadcast, rewritten or redistributed. We strive to uphold our values for every story published.