Kansas University alumnus John Loney and his wife, Teri, are often looking for learning opportunities. When the two heard of KU Mini College four years ago, John was excited to get the chance to be back on KU's campus and learn from what he says are world-class faculty.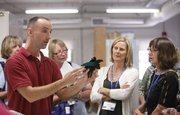 "From my first class four years ago, I'm always amazed at the talent and how good of professors they are, and the so many facets they know," he said.
KU Mini College is a weeklong opportunity to take shorter, specialized courses taught by faculty from the College of Liberal Arts and Sciences. The professors are asked to think about their research and interests and make a 75-minute presentation highlighting their work and the importance of it.
The participating collegians get the opportunity to stay in the dorms and create a course schedule based on what interests them.
"The professors put together a presentation about what excites them, and then they get feedback from students who really want to learn and are engaged," said Jessica Beeson, director of community engagement for the College of Liberal Arts and Sciences. "The students are truly lifelong learners."
One of the most popular courses at Mini College is taught by Susan Kemper, a KU distinguished professor of psychology.
Kemper is the graduate adviser and senior scientist for the Gerontology Center and her course, "Use It or Lose It," focuses on the growing industry of old age, what products or claims people should be skeptical of, and what aging adults should be doing as they grow older.
"This lies at the intersection of both (the mind and aging)," Kemper said. "People are living longer, and there are accelerating concerns about leading rich and successful lives into their 80s and 90s."
Other popular courses include ballet and art.
Fourth-year collegian Trudi Goldberg, Prairie Village, isn't typically an artsy person, but she chose to take art classes as part of her Mini College schedule.
"It is a great opportunity to learn new things and to think about things I don't normally think about," Goldberg said. "It gives me the option to do something I wouldn't normally do."
The program has grown by 10 students each year of its existence and with the expansion of Mini College attendees, course offerings have grown, too. Mini College is sponsored by the College of Liberal Arts and Sciences, but this year the School of Business taught classes, and next year Beeson hopes to keep the School of Business involved and add the School of Music.
"Eventually we want to continue adding schools to make Mini College a campuswide effort," Beeson said.
Of the 140 students who attended KU Mini College this year, 130 filled out evaluations saying they would recommend Mini College to a friend and would come back to Mini College in the future.
Because of the success of the program, the College of Liberal Arts and Sciences will host a smaller version of Mini College in January in Phoenix so KU alumni from other parts of the country will be able to attend.
"If it is successful, it will be a way for us to get out on the road and take what we do to them instead of expecting them to fly to us," Beeson said.
Copyright 2018 The Lawrence Journal-World. All rights reserved. This material may not be published, broadcast, rewritten or redistributed. We strive to uphold our values for every story published.