Cory Berkland is in the business of making drugs work, and he's just one in a long line of Kansas University researchers who have contributed to that field.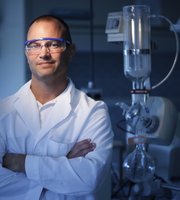 The KU associate professor holds a joint appointment in the departments of chemical engineering and pharmaceutical chemistry and is one of a host of KU researchers — past and present — who have had success in researching drugs and getting them to the market. The collective effort has been a financial success for KU and its researchers, as well as a significant contribution to the KU Cancer Center's effort to obtain National Cancer Institute designation.
Berkland himself has cofounded two companies. One, Orbis Biosciences, uses microscopic capsules to control the release of a drug, creating liquid suspensions that last longer between doses. Another, Savara Pharmaceuticals, is working on increasing the effectiveness of drugs used to treat pulmonary diseases. The new technology keeps the particles of the medication dry, small and separate from other particles, allowing more medication to reach the lungs.
"At KU, there's a large portion of faculty interested in applied research," Berkland said. "There's more interest in making a drug or making a drug work."
Berkland said he also thought that the entrepreneurial influence of the Ewing Marion Kauffman Foundation in Kansas City played a role in helping shape the business efforts of many KU researchers. Offering more tax incentives to start-up companies, he said, also would encourage innovation and create more business opportunities.
Val Stella, a KU distinguished professor of pharmaceutical chemistry, also credited the drug development work done by Takeru Higuchi, a KU distinguished professor from 1967 to 1983, and Howard Mossberg, a former KU dean of pharmacy and a former vice chancellor for research, graduate studies and public service. Stella said Mossberg created what is now known as the KU Center for Research, an entity that removed several constraints on researchers looking to protect their own intellectual property and create their own companies.
Stella has gone on to create several of his own successful drugs and start-up companies during his tenure at the university.
Scott Weir, director of KU Medical Center's Institute for Advancing Medical Innovation, said KU's drug discovery, development and delivery research is strong from one end of the process to the other. One area of strength is the good research done at the pharmacy school and its high level of National Institutes of Health funding, Weir said. A second major strength is the drug development assets in the region, including the Kauffman Foundation and Marion Labs, he said. A third piece is the research and clinical work being done at the KU Cancer Center.
Weir's group at KUMC has also worked to speed the delivery of new therapies to patients by partnering with the Leukemia and Lymphoma Society and the NIH Therapeutics for Rare and Neglected Diseases program.
"We feel pretty confident that this model works," Weir said. "We think it's scalable and replicable."
He said his group would continue to look for new ways to develop cancer cures by looking for partners to help take drugs from the bench to the bedside in quicker ways than had been done before.
"Our job is to take these federally funded basic research findings and translate them into drug therapies," he said.
— Higher education reporter Andy Hyland can be reached at 832-6388. Follow him at Twitter.com/LJW_KU.
Copyright 2018 The Lawrence Journal-World. All rights reserved. This material may not be published, broadcast, rewritten or redistributed. We strive to uphold our values for every story published.